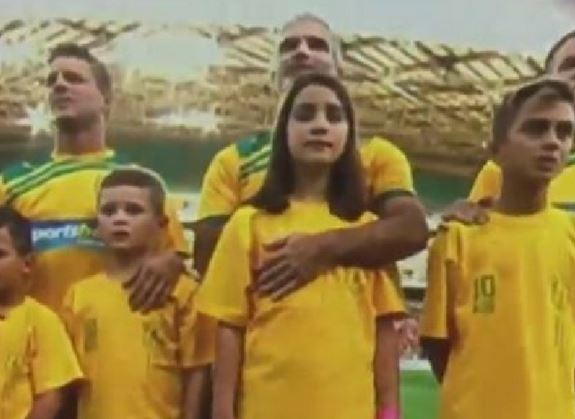 Former footballer Craig Foster was recently trolled for hugging his eight-year-old daughter while they stood together during the national anthem, with many accusing him of inappropriate behaviour.
Standing with his arm around her before the Australian Legends v Liverpool Legends game, the father-of-three was clearly proud and honoured to be able to share this special moment with his youngest daughter.
Sadly, however, many people took to Twitter accusing him of acting inappropriately.
But now many others have taken to the social media site, showing not only their support for the now sports commentator but their sheer disgust at the attitude of others.
@Craig_Foster there are some real arseholes on Twitter. #greatdad

— James h (@h_jamesh) January 7, 2016
@Craig_Foster awesome moment with your beautiful daughter. Your a credit to great dads everywhere

— Cassie Howard (@MerchgirlCassie) January 8, 2016
@Craig_Foster The people having a go at you obviously don't have children.

— Tristan James (@DJ_Salinger) January 8, 2016
Many of those who were quick to judge didn't realise that she was, in fact, his daughter, but despite taking to the social media site to confirm this, the abuse continued.
Was very special for all the players to have our children share tonight's experience as mascots. My beautiful 8 yo daughter. Unforgettable

— Craig Foster (@Craig_Foster) January 7, 2016
Shame my 16 yo girl and 18yo son couldn't be there as well. I certainly would have hugged them very close too. Special for a father

— Craig Foster (@Craig_Foster) January 7, 2016
Commenting on the game to the Daily Mail Australia, spokeswoman for Blackbridge, the event promoter, said: "All of the players were invited to have a member of their family join them on the pitch for the national anthem. It was a wonderful, innocent occasion for all of the players and their children."
What are your thoughts?