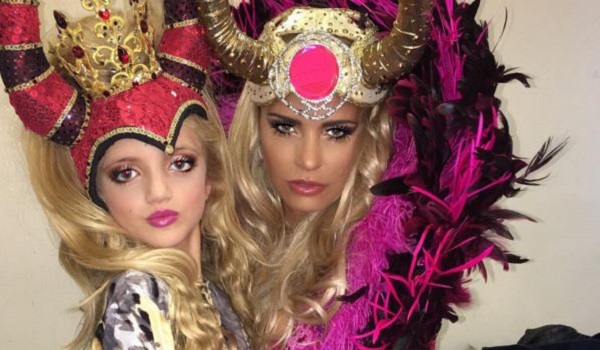 She may only be eight years old, but already Katie Price's daughter Princess is making waves among members of the online community – and it's playing out again thanks to her latest Instagram photo.
Former glamour model and mother-of-five Katie has come in for major criticism today, after sharing yet another photo of her little one sporting a full face of makeup and pouting for the camera.
While Katie seems to be rather amused by the fuss that Princess' makeup has generated recently, captioning the latest photo with "here she goes again", her followers appear to be very concerned over the image.
Many fans believe that while a little bit of fancy-dress makeup is fine for a small child, the 'smoky eye' and full pout seen here are inappropriate for a little girl of Princess' age.
Among some of the more shocking and harsh criticisms was a comment from one follower which read: "What a shame. She's a beautiful girl but here she looks like an 18-year-old slapper." Wow.
Another Instagram user wrote: "People shouldn't slag her off, but I just think this little girl is losing all her natural beauty by wearing full-blown adult makeup rather than just simple little girl makeup."
Princess doesn't seem to care what her critics think – she took to the social media site earlier this week to remind them that her actions are 'none of their beeswax', but people have questioned the fact that Katie has shared yet another controversial shot.
What are your thoughts on this?