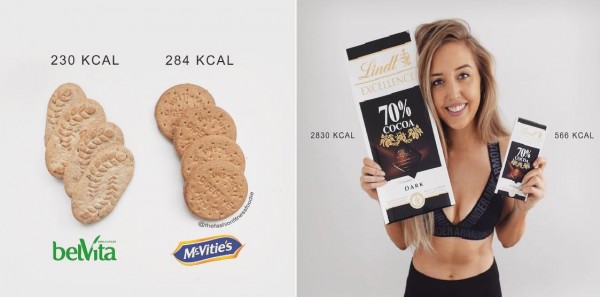 We all diet in some shape or form.
Whether it's by cutting out food groups, staying away from sugar or counting calories we consistently berate ourselves over food.
And we vehemently try our best to make sure our kids are always getting the good stuff.
But after viewing Lucy Mountain's Instagram account, we've been blown away by her food concept, which makes a whole lot of sense if we're honest.
Lucy is trying to change the way people think about counting calories, using the public forum to convey her point by providing visual comparisons.
The fitness guru believes if you're counting calories there is no harm in treating yourself as sometimes even healthy food can be heavy in calorie intake.
So if you have a small treat, you can still stay within your daily limit.
Moreover you can just as easily go overboard with some 'healthy' foods, especially when they contain additives, leading you to potentially exceeding your limit.
Some of her arguments have seriously struck a chord with us, as we would often swap almonds for sweet things and choose high calorie coffees.
One which really threw us was her depiction of salad bowls; both salad bowls contained the same foods, yet one bowl had more calories than another due to choices of dressing, cheese and croutons.
And the one that will really tickle your nose - gin versus wine - who's the winner?
It makes for an interesting read, and if calorie counting is your thing - it's definitely worth a scroll.
So if you're planning on counting the calories, just remember there are ways of treating yourself without going 'to town'.