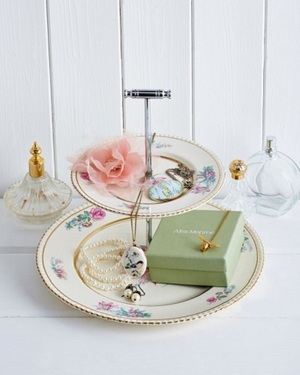 Girls and women of every age love nothing better than showing off their favourite jewellery and accessories, so why hide them away in a boring old jewellery box?
Here are five alternative storage tips to make it that little bit more fun.
Teacups
A beautiful vintage teacup can sometimes feel too pretty to drink out of! Arrange a selection of dainty cups in varying shapes, colours and patterns in your jewellery drawer, using them to hold and organise all your most treasured trinkets and jewels.
Cake stand
This is the perfect solution for those who want to add a quirky feature to their dressing table. It saves space and is a really nice way to display your favourite pieces.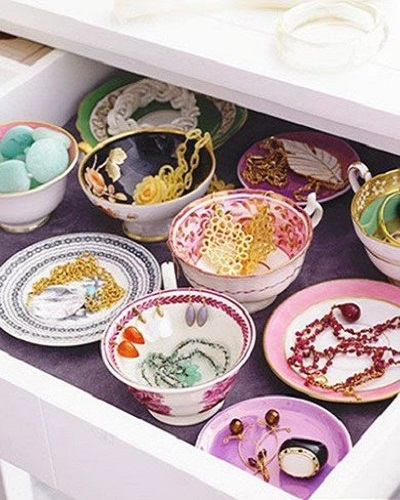 Photo frames
Those who love showing off their jewels will enjoy this one. Attach some thin strips of wire to the back of the frame to set up a holder for your necklaces, bracelets and hair accessories.
Wall drawers
This is a nice variation to your average storage shelf. Adding on pretty glass knobs and little hooks will transform this into a useful yet funky wall feature.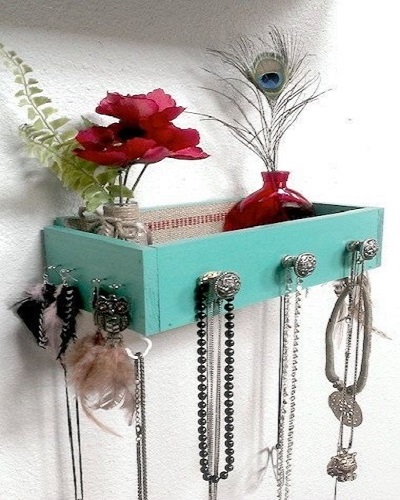 Sweet jars
A great idea for little girls with a sweet tooth! Not only are cookie and sweet jars a really cute solution for storing their jewellery and accessories, but it gives a lovely little nod to childhood classics like Alice In Wonderland and Charlie and the Chocolate Factory.