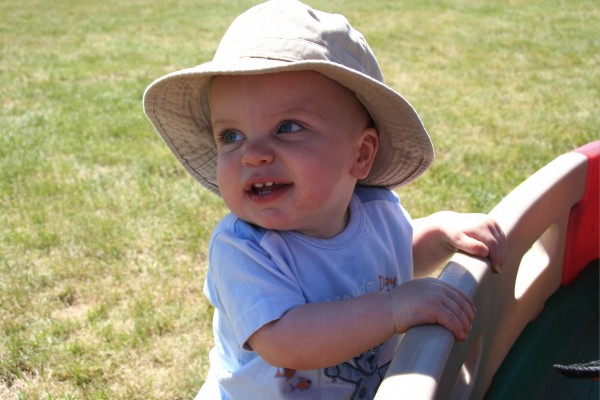 It looks like it is going to be another scorcher this week!
But as we break out the ice-pops and the sprinklers, it is worth considering how best to protect little ones from the strength of the sun.
Although we sometimes associate sun cream and sun care with going on holidays or travelling abroad, actually it's as important to be proactive when we are at home.
The UV damage is just as bad here as it is abroad – 90% of the UV rays can penetrate light cloud coverage.
The most at risk for sunburn or UV damage are those with red hair, those with fair hair, people with pale skin, moles, freckles and people with blue, green or grey eyes.
We spoke to Pharmacist, Sheena Mitchell about her top tips for both babies and toddlers:
Babies and the sun
Keep babies younger than six months of age out of direct sunlight as much as possible.
Dress them in close woven (i.e with no holes – so that the sun can't get through) clothes – long sleeves and long shorts or trousers.
Use a sun shade on your buggy when out and about.
Use an unperfumed sun protection for babies specifically for their age. Most are for babies six months and older (as babies under six months should not be in the sun) but can be used on babies as young as three months, so long as you do a patch test first to ensure they are not sensitive to any of its ingredients. To do a patch test, just apply a small amount to a small area and leave for 24 hours to see if a reaction occurs – if there is any irritation in the area after 24 hours then avoid use of that product. Most suncream is slightly white when it goes on which is actually quite helpful as you can see where you have put it and where you have missed. To apply this cream you can put it on 30 minutes before going out and about and then reapply it every couple of hours.
As compared to adults, babies are at a higher risk of damage through heat-stroke. This is because the skin of the infants does not produce enough 'Melanin', a pigment that is the body's natural defence to protect against the radiation caused by high sun exposure.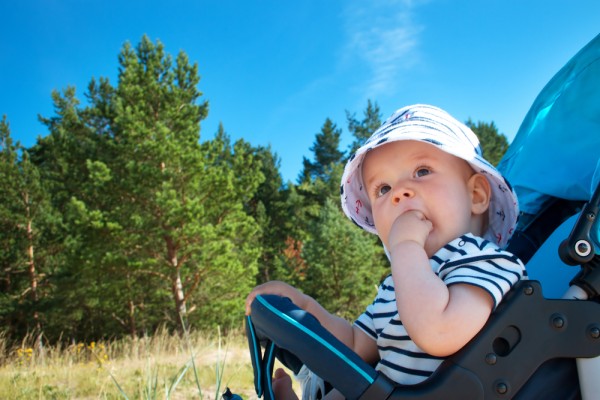 Toddlers and children in the sun
Always use a sun hat – preferably one which shades the face, neck and ears.

Use sun cream with a minimum SPF of 30.

Apply sun cream 30 minutes before going out in the sun and reapply it generously every couple of hours.

Try to involve your children in the 'creaming' up process so it's not seen a such a chore and they learn to be sun smart!

Ideally, you would try to keep children out of the sun between the hours of 11am and 3pm when UV rays are at their strongest but this is not always possible. Try to take as many indoor breaks as possible to restock on drinks and take a break from the strong rays.

Use a lip balm containing SPF 50 if you can too to prevent any lip burn.

Invest in a good pair of sunglasses for your little one.

Don't forget to put cream on their little ears and on the back of their neck.

Young children have skin that is relatively more to their body mass, the outcome of sunburn can be very serious in them.

Plan ahead - have suncream in the car to top-up before playdates, make sure you have enough drinks to keep those little ones hydrated and always bring long-sleeved t-shirts for when you think they have had enough sun.

Set a good example - cover up yourself and cream yourself up. Letting your children know you take your skin protection seriously will stand to them for life.
Enjoy the sunshine! It is so lovely to spend the afternoon at the park or have a picnic with friends. We got the sprinkler out this weekend and it was brilliant fun remembering those times when we used to do it as children.