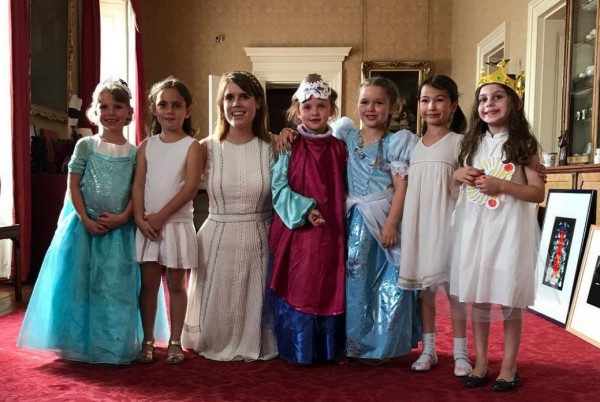 Harper Beckham lives an extraordinary life, so it only makes sense that her birthday would be an extraordinary affair – and this was certainly the case this weekend!
The youngest of the Beckham clan turns the ripe old age of six today, and she celebrated in style – at Buckingham Palace.
That's right; celebrity royalty met actual royalty as Harper partied in the palace with her friends….and Princess Eugenie!
Proud parents David and Victoria took to Instagram to share photos from their little girl's special day, and we are actually a little bit jealous!
In one shot, Harper – dressed in a Cinderella-style gown – is seen posing for a photo with her friends and Princess Eugenie. In the caption, David wrote: "Lucky Harper meeting a real-life princess at the Palace."
Over on Victoria's page is a photo of the birthday girl in the Palace courtyard, holding a single red balloon aloft, the caption reading: "Our little birthday princess."
While it's clear that Harper had a birthday to remember at the Palace, the loving tributes from her family will surely make it even more special.
Doting dad David was among the first to wish his little girl a very happy birthday, sharing a photo of the pair of them hugging.
"Happy birthday to our special little young lady. Such a special girl who brings so much joy and happiness into our lives," he gushed.
"Happy sixth birthday (I can't believe you're six already). Have the most amazing day. We love you, pretty lady."
Not to be outdone, big brother Brooklyn chimed in with a tribute of his own, declaring his love for the adorable birthday girl.
Romeo, aged 14, followed suit over on Instagram, sharing a sweet photo of him and Harper together.
Describing her as 'the best sister in the world', the budding young model wrote: "I hope you have an amazing day. I love you so much."
The award for cutest birthday tribute has to go out to 12-year-old Cruz, however. He lived up to his reputation as the biggest sweetheart ever as he wrote: "I can't believe it has been six years already. You are such a big girl!
"To the best sister in the world, I love you so much, have an amazing day."
That's enough cuteness for one day! Harper sure is one lucky little girl.