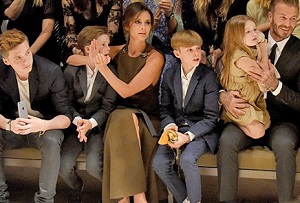 It was a big weekend for the Beckham family, with David celebrating his 40th birthday with a star-studded party in Marrakech.
With the festivities carrying on into the early hours of the morning – and judging by the hilarious photos on Instagram – a rip-roaring night was had by all.
It's not surprising then, that David was feeling a little worse for wear when he woke up on Sunday morning, but it seems that daughter Harper was on hand to help him through after a hard night's partying.
In a hilarious photo that the former footballer posted to Instagram, he is covered in pretty bows, ribbons and hair bands – and it's not too hard to guess who owns that little hand attaching them!
"Someone is trying to make daddy feel pretty today after a heavy night," wrote David, referring to none other than three-year-old daughter Harper.
We can expect plenty more of these brilliant family shots going forward, with David finally giving in and joining the photo-blogging site on Saturday.
While he has only been an Instagram user for a matter of mere days, he already has millions of followers, and he has been dedicating his early posts to his family and friends.
We can't wait to get more of an insight into this doting dad's life behind-the-scenes.