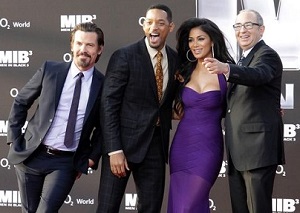 It's not every day that your child turns 17, and one famous dad decided to mark the special occasion by embarrassing his teen in a very public fashion!
As singer and actor Jaden Smith celebrates his milestone birthday, Will Smith took a leaf out of doting dad David Beckham's book, by going right back to his childhood days to send his wishes.
Posting a beautiful photo of a young Jaden to his official Facebook page, the 46-year-old Ali actor wrote: "Jaden is 17 years old today. I'm just glad he stopped eating paste!"
Meanwhile, mum Jada Pinkett took a sweeter approach on her own social media channels, writing: "To my son. Today you are 17. It was on this day a tremendous gift was delivered to me. A baby boy, whose existence reflected back to me all the passion, curiosity, love and beauty that only a child could collect from the deepest recesses of his mother's secret heart and breathe it into the world."
"You have made the beauty I could only feel within myself…absolutely tangible. You were not only born from my body…but born from my soul," she added.
Will and Jada are also parents to 14-year-old old daughter Willow, while Will has a second son, 22-year-old Trey, from his first marriage.