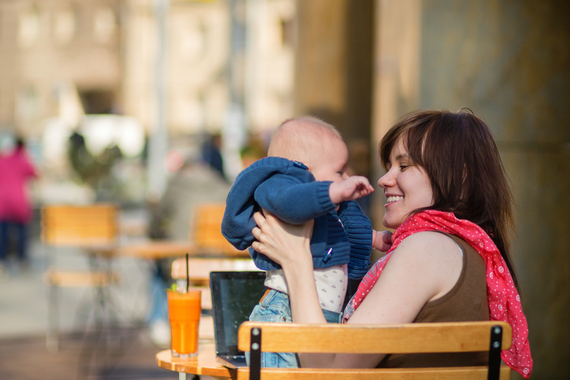 Just because you have a baby doesn't mean you can't still meet friends for a bite to eat in cafés and restaurants – all you need is some good preparation, and everything should run smoothly. Here are some tips on how to dine out with your baby.
Pick a child friendly place
Not all restaurants are child friendly, but some are. They might have staff that are great with kids, a play area, or tables with enough space to fit in your extra person. Check reviews online from other mothers about how child friendly the place is before going there. Also, give them a ring to make sure they have highchairs, a changing area or any other facilities for kids. It'll be worth it.
Go at the right time
Plan your date around your babies sleeping schedule – you don't want to be dragging them around if they're going to be grumpy or hungry. Also, try and pick a time when the café or restaurant won't be too busy. It's just easier.
Bring entertainment and food
It's never a bad idea to bring something to entertain your baby with, whether it's a cuddly toy or their soother. Bringing some food in case they get hungry is always a good idea too - it'll make finishing your burger a whole lot easier.
If you getting a coffee, get it to-go
It doesn't mean you can't drink it in the café, but at least this way if you have to leave before you're finished you don't have to leave half your drink behind.
Don't stress
If your little one gets distressed and starts to cry, don't worry. Just take a break and go outside so you can both calm down without everyone looking. Remember, it's no big deal, and if you got some dirty looks from the table next to you, ask yourself whether or not it's going to effect the rest of your day. You'll find that it makes no difference to your life, so forget about it and enjoy your lunch. Everyone deserves to do the things they love, whether they have a baby in tow or not.