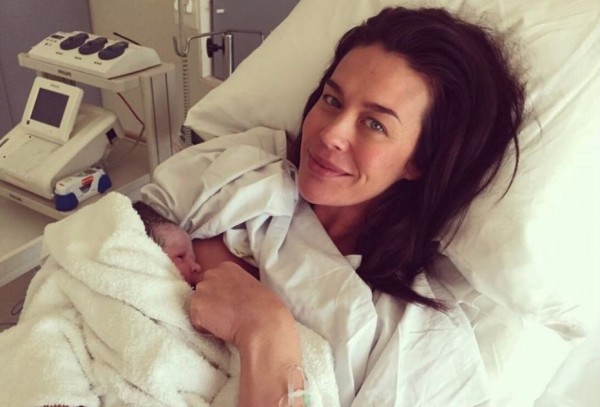 New mum Megan Gale has been forced to defend herself, after going on a 'baby-free' date night with her husband.
Australian actress Megan, who welcomed daughter Rosie with husband Shaun Hampson on September 27, hit back against criticism on her Instagram page.
The 42-year-old, who is also mum to three-year-old son River, took to the photo-blogging site to share what was supposed to be a sweet insight into life as a new mum.
Explaining how both of her children were being looked after by their grandmothers, she wrote: "With about 10 minutes to get ready, my man and I are out for a quick dinner date.
"Missing our babies, but SO important for parents to have some couple time when/ if they can grab it."
It wasn't long before nay-sayers were flocking to the comment section of the post, criticising Megan for leaving her young baby.
Indeed, some of the comments were so bad that Megan felt compelled to edit the original post and justify her outing.
"For sure, we have to devote the majority of our time to our kids. However, IF it can be managed well, stealing an hour or two, here and there, as a couple or an individual is a 'win' for parents," she wrote.
"In this instance, we had left Rosie with my very experienced and capable mum after I had bathed, dressed, fed her and put her down – plus, I'd expressed enough milk for two feeds, just in case."
She added that, as Rosie tends to sleep for four to five hours and then feeds again, she knew she had 'more than enough time for a one-hour dinner'.
Not that Megan should have to justify her decision at all, but she went on to explain why 'me time' is so important for her.
"With River, I barely left the house for the first six weeks, out of fear, out of guilt; and I lost a little part of myself, and also developed what I now feel was a mild case of post-natal depression," she added.
"If you've ensured your child is well looked-after in your absence, then there is nothing wrong with some alone time as a couple or as an individual. You'll be happier people for it, and more importantly, better parents."
The mum-of-two also assured anyone 'projecting negativity on her page' that she would be blocking them and deleting their comments – and rightly so, we say.
"This is a place of love and peace. Your comments don't upset me, they just make smile and make you look nasty," she wrote.
Thankfully, if you look on Megan's page now, you will see a string of supportive comments from fellow mothers, who – like us – can't quite believe that Megan has had to justify her decision to go on a date night in the first place.
Good on her!