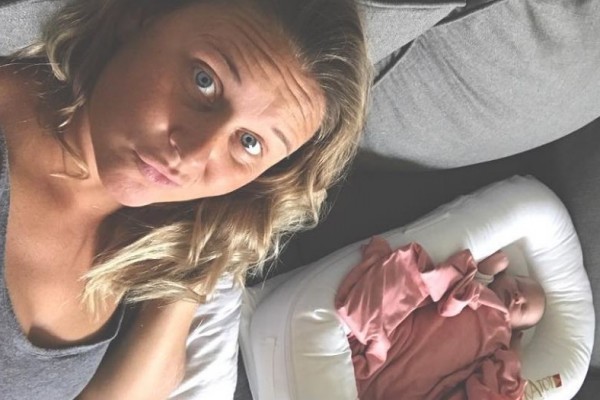 There's a reason why women feel so guilty when they cannot breastfeed, or choose not to – it is pushed so hard by our doctors and medical experts. However, nursing is not easy – and Angela Burzo's candid Instagram post is perfect proof of this.
Angela is a mum-of-two, and welcomed her daughter Aylee into the world last month. While she is currently breastfeeding, she has been finding it really tough.
While Angela totally appreciates those powerful photos of breastfeeding mums gazing blissfully at their babies, this is not an experience that she can relate to.
No; Angela's experience has reduced her to tears, and she has captured this perfectly in her latest Instagram post.
"This is real, and as much as I want to stay strong and be the soldier I feel I can be, I cannot hide the struggle that is breastfeeding," she wrote, beside a photo of herself crying while nursing.
"Whether she is not latching on properly; whether I am not producing enough milk to keep up with her demand; whether my nipples might not be adequate; whether we confused her with having to give her a bottle after pumping….whatever it may be, it has been an emotional and painful struggle.
"This photo depicts my reality of this breastfeeding journey so far, and that first latch and the pain I endure. Keeping it real."
She went on to thank all those wonderful mums who have supported her so far – mums who have now been joined by an army of other women sharing encouraging messages in the post's comment section.
"Going through this as well," wrote a fellow mother. "Doesn't help that I have health problems that go along with not producing enough breast milk. I keep being told that 'it will pass'. I'm tired of hearing it, but it's true."
Another urged Angela: "Stop putting so much pressure on yourself. Breastfeeding is not that crucial. I didn't breastfeed my daughter, as I didn't produce any milk, and she is very healthy, happy and strong."
We're sure Angela has received a boost in confidence from the response to her comment. Whether she opts to continue with breastfeeding, or chooses another option, we wish her all the best.