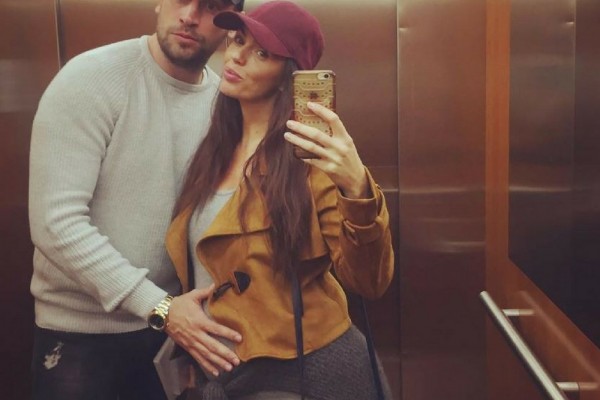 Hollyoaks star Jennifer Metcalfe has been spilling the beans on her pregnancy in a new interview.
Earlier this year, Jennifer and her partner former Geordie Shore star, Greg Lake, revealed the exciting news that they are expecting a baby.
The actress is six months pregnant but says she doesn't know if she's expecting a boy or a girl.
She's decided to keep it a secret as she says it will motivate her during labour and birth.
Greg told OK! Magazine: "We're not going to find out, we're having a surprise. I did initially want to, but Jen has always wanted a surprise."
While Jennifer added: "I feel like I'm the one who's got to go through labour, so if I've got a little surprise at the end, it might get me through however many hours it's going to be.
Jennifer, who's expecting her bundle of joy in June, talked about her excitement of seeing her baby move at her 20 week scan.
Jennifer loved seeing all the things her baby was doing during the scan: "It was fascinating", she said.
"You could see its little tongue sticking out and it was swallowing and crossing its legs.
"It was magical. We could see everything really well and apparently that's because I've not got a lot of fat on my tummy."
Jennifer, 34, says her bodily has drastically changed now that she's in her third trimester.
"My boobs are bigger, my bum is bigger. I'm used to that being massive anyway", she said.
However her bump is quite small and she's managed to conceal it easily while filming Hollyoaks scenes.
"I haven't had to cover the bump with a big handbag just yet as I'm getting away with it, but that might change", she admitted.
Unfortunately for Jen, she is experiencing some sickness and describes it as "a relentless hangover".
"It will all be worth it in the end", she said.
She also revealed that because she and Greg live in different cities, she has to tell him she was pregnant on FaceTime, according to The Mail Online.
"I wasn't nervous at all,' she said.'We live in separate cities so I found out and I had to tell him. What else can you do? I just felt dead excited."


The soap star has decided not to opt for a birthing plan and wants to play it by ear for now.
She said: "I don't have one and I don't want one! I'm relying on Mother Nature."
"Cats and dogs do it behind couches on their own and some women do it in the middle of nowhere."
We hope everything goes smoothly with the rest of her pregnancy and wish them the best of luck.