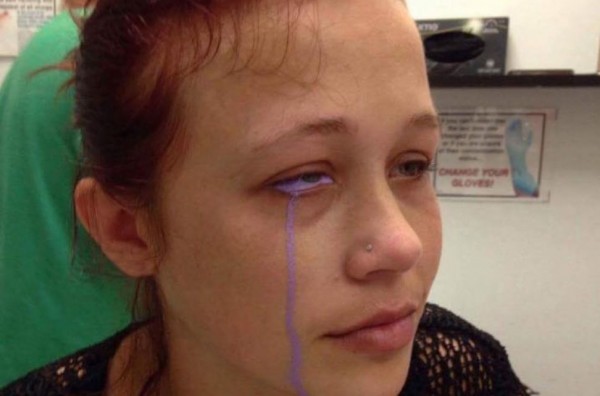 A young woman has urged people to research cosmetic procedures, after being left at risk of blindness in one eye after a botched inking.
Catt Gallinger, 24, has shared her frightening story on Facebook, after a sclera tattoo went horribly wrong for her.
A sclera tattoo involves inking of the whites of the eye.
Three weeks ago, the Canadian model went in for the inking with a 'professional' who claimed he had experience of the procedure.
Not long after it began, however, it became clear that something was not right. Purple liquid began to gush out of Catt's eye, and she was rushed to hospital.
Once there, Catt was given antibiotic drops. Unfortunately, she had a reaction which caused extreme swelling. A week later, her vision began to blur.
Catt has been on multiple medications ever since, including steroids, and has been told that she may completely lose sight in the affected eye if it doesn't heal.
Catt is in a lot of pain with her eye, the white of which is now a bright purple colour, and pieces of ink have been falling out.
"This was caused by undiluted ink, over injection, not enough/smaller injections," she wrote. Doctors also think that the equipment used in Catt's procedure were not sterile.
Currently, Catt says that on the rare occasion when she leaves her house, she needs to look down; this is because what's going on with her eye has altered her sight perception.
While it is unclear whether or not Catt's eye will recover, or if her sight will come back, the 'mental health aspect' has made the young woman's experience even worse.
Catt admitted that her once healthy social life is no more. She has also had to quit modelling, as she cannot accept jobs right now.
The stress of the situation has really taken its toll, and she is also suffering from weight loss and thinning hair.
Uncertain of her future, Catt has urged people not to judge her but to learn from her experience.
"I am NOT sharing this with you to cause trouble; I am sharing this to warn you to research who you get your procedures from as well as how the procedure should be properly done," she wrote, in a Facebook post.
"I have been to the hospital three times. I had no furry pets to cause any dander, and I wash my hands every time I do anything with my eye, both before and afterwards.
"Just, please, be cautious who you get your mods from, and do your research. I don't want this to happen to anyone else."
We hope that Catt will make a full recovery, and that others will learn from her experience.