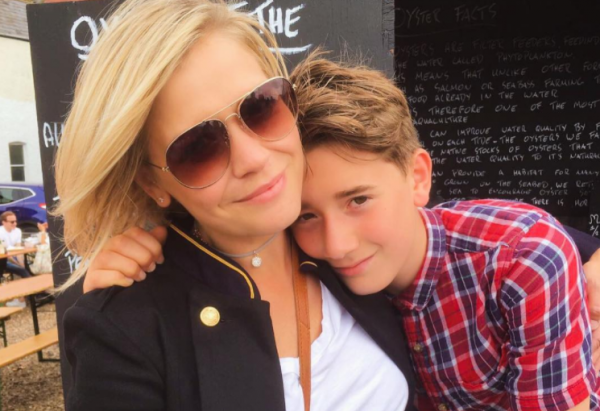 Suzanne Shaw has admitted that struggling through postnatal depression with both of her children left her feeling 'like a failure'.
The former Emmerdale star, who is a mental health ambassador, made the revelation this weekend in an interview with The Mirror.
Suzanne is mum to 12-year-old Corey, her son with ex-fiancé Darren Day; and 21-month-old Rafferty, her son with fiancé Sam Greenfield.
Life as a first-time mum was tough for Suzanne, who had to deal with the heartbreak of Day's departure shortly after she gave birth to Corey.
She struggled with her health, and eventually sought help from a doctor, who put her on medication for postnatal depression.
With her second pregnancy, now in a 'perfect set-up' with fiancé Sam, Suzanne was confident that postnatal depression would not rear its ugly head again. She even took extra steps to ensure that it didn't, breastfeeding and maintaining a healthy diet and exercise regime.
However, depression does not discriminate between either people or circumstances - and it returned, 'hitting her like a bus out of nowhere'.
She tells The Mirror: "I started not to feel myself. I had such guilt that I wasn't giving Corey enough attention, or that Raffi and I didn't have an emotional bond.
"I also became really paranoid that I couldn't do things... Sometimes, I couldn't leave the house. I wouldn't want to go to my baby groups, and I'd cry at the thought of being left alone with the baby."
When nine months had passed, and Suzanne could no longer blame her symptoms and struggles on her hormones, she knew that she needed to take action. And that is exactly what she did.
Suzanne previously revealed that it was her mother who convinced her to go and talk to someone. Soon after, the 35-year-old began to make progress, having been prescribed with a course of medication as well as therapy sessions.
Now that the mum-of-two is 'out the other side', she wants to share her story; to assure other mothers in the same position that there is help - you just need to be brave and ask for it.
Fair play to Suzanne for speaking out - no doubt her story will change a life today.