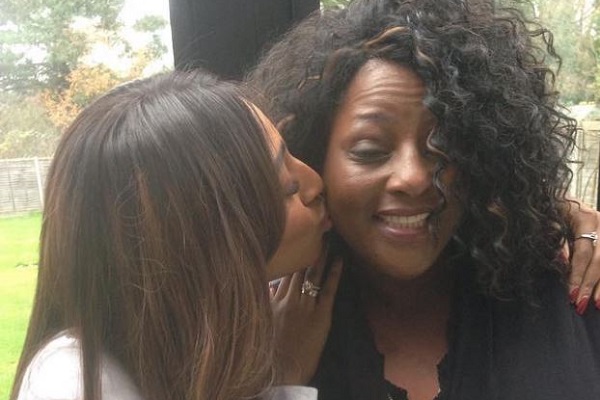 Strictly Come Dancing contestant Alexandra Burke left the nation in floods of tears after she broke down on the show last night.
The singer received huge praise for her energetic jive to Tina Turner's Proud Mary, however, Alexandra was left in floods of tears after her routine.
After the judges revealed their scores, the X Factor champion wept and said, "I just wish my mum was here."
Host Claudia Winkleman comforted the star and did her best to reassure her, "I know, baby, you did so well and you have done her proud. We will get you to your boyfriend and your brother."
Professional dancer Gorka Marquez held his dance partner close as she cried.
Alexandra lost her mum a mere two months before starting on the popular reality show. It is understood that her mum, Melissa Bell, sadly passed away at the end of August after losing her battle with kidney failure.
Thanking her fans for their loving words of support and their high praise, Alexandra tweeted, "Still can't believe last night happened.... thank you all for your kind and loving messages... I'm so grateful for your support xxx."
Her dance partner Gorka praised her, "I can't even describe that feeling! Alexandra, I couldn't be more proud of you tonight! I love you. You are a Superstar."
Their performance scored 39, which is the highest mark of the series so far. The electric dance received the first 10 of the series from judges Darcey, Shirley and Bruno.
Alexandra is one of the top contenders on the BBC dance show. She has performed four high-scoring and perfectly polished routines since the show started in September.
She admitted that taking part in Strictly was something she always wanted to do, "I've been trying to get on Strictly for years, so being asked was a dream come true. I didn't hesitate for a second – as soon as I got the call, I postponed my album and my single. I cancelled everything."
She opened up about why she decided to take part in the show in her Radio Times column.
The 29-year-old wrote, "The one thing that will drive me is my mum, who recently passed away. My being on the show was a dream of hers, as well as mine, so doing the best I can on Strictly means a lot to me."
The West End star went on to share that everything she does is in honour of her late mum, "When I step onto that dance floor on Saturday night, I want to do the best I can and make her proud."
We're sure Alexandra's mum would be insanely proud after her phenomenal performance last night.