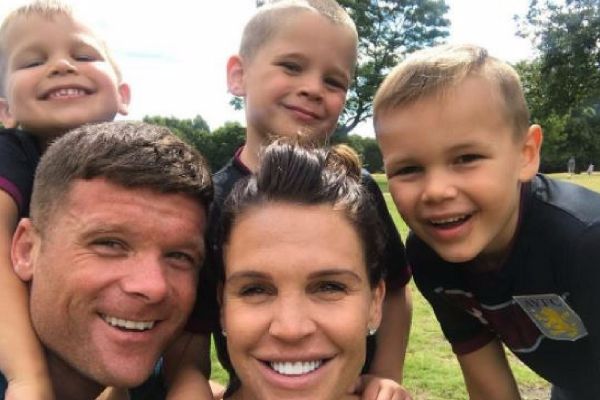 Danielle Lloyd has revealed that she will go into labour very soon as her last check up revealed she was three centimetres dilated.
Danielle announced in her pregnancy blog for OK! that she thought she'd gone into labour last night after experiencing pains in her stomach.
The former model explained: "I thought he was coming last night, around 12:30am, I got all my stuff ready by the door because I started to get a few pains and my stomach was going hard - and then nothing!"
She also said she's experiencing discomfort as her pregnancy with her fourth son nears its end.
"I've got really bad back pain now, I'm struggling to walk now but my mum's been here helping me out, keeping me company and stopping me from going mad".
Danielle went for a cervical sweep on Monday which revealed she is already three centimetres dilated.
"It's meant to encourage labour, but I've had nothing so far", the mum-to-be explained.
"My consultant said I'm three centimetres so I'm more than likely to go into labour pretty soon, but if I haven't by the 27 September they'll induce me.
"I thought 'I'm not waiting until then', I'll have to force him out myself!"
Danielle added that she is now 39 weeks pregnant but none of her three previous pregnancies lasted this long.
"I'm not as big as I was with the other boys, maybe he's just small and he's still growing? I'm terrified he's going come out like a stone", she added.
Her other children, Archie, seven, Harry, six, and George, four, have been inundating her with questions about the baby's arrival.
"The boys keep asking me when the baby is coming out now, I've had nine months of them asking that, at least they don't have long to wait".
Although Danielle is finding the wait frustrating and is nervous about the birth, fiancé Michael is helping her stay calm and focused.
Danielle has tried various ways to start labour, including "eating hot curries nearly everyday, pineapple and raspberry leaf tea".
"I've tried everything but nothing is working! There's nothing I can really do now", she conceded.
Danielle's youngest son started school this week and the Celebrity Big Brother star admitted it was "a bit emotional".
"George is quite a boisterous little boy, he's quite naughty and mischievous so everyday I've been expecting the worst, but the teacher says he's amazing and good, but when he gets home he's not like that!"
Best of luck Danielle – we're excited for the baby's arrival.