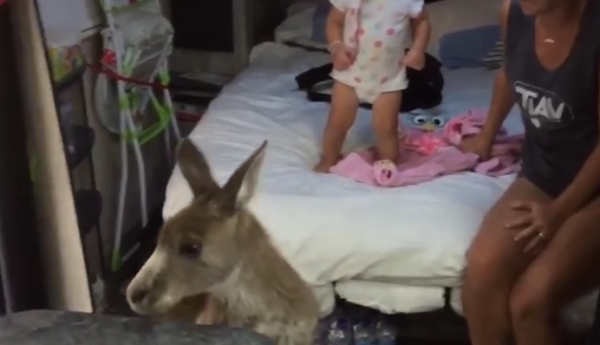 As a family were enjoying their caravan holiday, little did they know they'd have some very friendly visitors along the way.
The unsuspecting couple and their kids filmed a hilarious encounter with a kangaroo who took a fancy to them.
Justin and Bec Lorrimer were enjoying a little getaway in their caravan when a kangaroo came jumping in. Can you imagine!
At first, Justin and Bec's children, Jack, Bill and Charlie, were a bit shy, but as they become more comfortable with the animal, they really came out of their box.
Justin did his best to get him out of their living space, but he loved the kids so much he didn't budge a bit.
And of course, as the parents try anything to get the animal away, he's having none of it - and the kids find it hysterical.
Eventually, Justin is able to pry the kangaroo away from his family with an apple (bribery is key, hey?) but what happened next was just uncanny.
The family uploaded two videos to Youtube, and the second one sees an entire bunch of kangaroos head towards their caravan.
"I think word has got out around the local kangaroo community that they can come in and have a bit of dinner," Justin jokes in the video.
We don't know what happened next, but it was sure some experience to go through with your family!
SHARE if you think this story is hilarious.