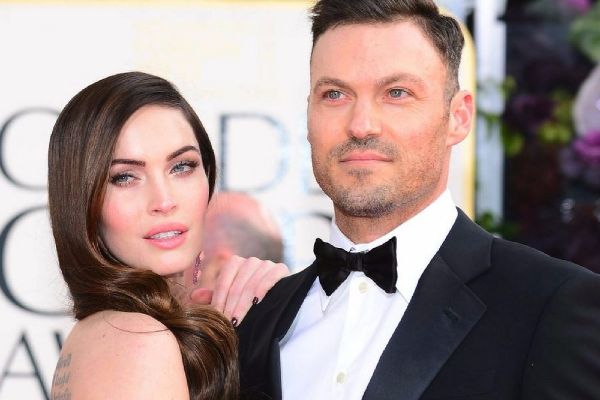 Brian Austin Green and Megan Fox are now proud parents to three adorable little boys, Noah, who will turn five later this month, Bodhi, three, and Journey, one.
The couple's eldest child Noah is often pictured wearing dresses and in a recent interview, Brian defended the youngster's choice.
Speaking to the Hollywood Pipeline YouTube channel, Brian said: "I've heard from some people that they don't agree with him wearing dresses.
"To them I say, I don't care. He's four and if he wants to wear it, then he wears it.
"If it's dresses or goggles or slippers or whatever. It's his life.
Brian Austin Green wants the trolls to know he doesn't care if his son wears dresses: "He's not harming anyone." https://t.co/4XPEOsWULi pic.twitter.com/UupEtrATkd

— E! News (@enews) September 8, 2017
"I feel like at four or five, that's the time he should be having fun. He's not harming anyone by wearing a dress", the actor said.
"If he wants to wear a dress, awesome. Good on him", Brian said.
Brian, who also has a 15-year-old son, Kassius, from a previous relationship also spoke about dealing with paparazzi who want to photograph his children.
Rather than try and dodge the photographers completely, Brian finds it easier to try and make an arrangement that suits both parties.
"You tell them you're going to be somewhere. They take five minutes taking pictures and then they leave you alone," he explained.
He said that he even tells the paparazzi when the family will be on holiday in Hawaii so that they can get the photos early and leave the family alone for the rest of the holiday.
Megan and Brian have been married since 2010, but the Transformers actress filed for divorce in August 2015.
However, in April 2016, she announced she was pregnant with Journey, and the couple got back together before the birth.
Brian Austin Green/Megan Fox's son wears dresses, Dad's OK with that: "He's not harming anyone by wearing a dress. If he wants to, awesome." pic.twitter.com/9KZZjER2rm

— Mike Sington (@MikeSington) September 8, 2017
Megan had been plagued by rumours that Brian was not Journey's father, and the actress responded with a tongue-in-cheek Instagram post.
Uploading a photo collage of herself with co-stars Shia LaBeouf, Jake Johnson and Will Arnett to Instagram, Megan playfully wrote: "Not the father."
Meanwhile, sources confirmed to People magazine that estranged husband Brian was indeed Journey's father.
"Of course Brian is the dad! They never stopped loving each other, and they will never stop being devoted parents to their boys," the unnamed source said.