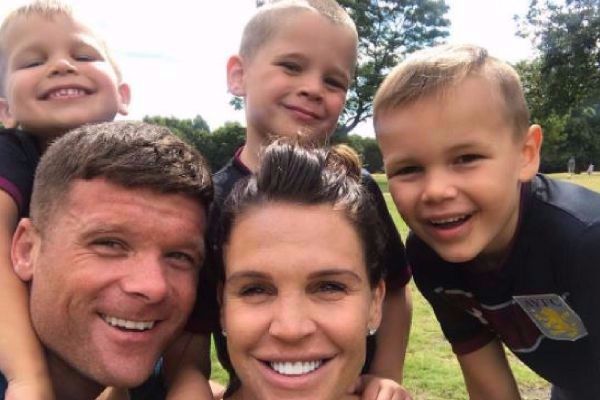 New mum Danielle Lloyd has revealed her fears that her middle son could have Asperger's Syndrome.
33-year-old Danielle who gave birth to new baby Ronnie two weeks ago, revealed she is concerned about her six-year-old son Harry.
Danielle told OK! that some of Harry's behaviours caused her concern. "He does odd things like take all of his possessions to bed - you'll literally find him tucked up surrounded by Guess Who? and Monopoly sets and all of his DVDs", she explained.
"He's also very clumsy and a bit socially awkward, which are all signs of Asperger's. He's doing well at school, though, which is a silver lining", she added.
Danielle has taken Harry to the doctor and he has since been referred to a specialist.
The mum-of-four also hit back at her ex-husband Jamie O' Hara who has claimed she won't let him see his sons, Danielle's three eldest boys, Archie, seven, Harry, six and George, four.
In a very public move, Jamie directly tweeted Danielle, saying: "Can you please let me see my boys – why are you doing this to them? I love them and miss them. I don't want to go back to court".
Danielle responded: "Jamie shouldn't try to make me look bad on social media when he knows there's an awful lot more to the situation than he's letting on".

After Jamie's tweet, a representative for the former model released a statement saying: "Jamie's solicitors have been thoroughly informed of the situation with the couple's children. Jamie, in turn, is fully aware of what is going on".
"Danielle's priority is now – and will always be – the safety and welfare of the children.
"Their mental health is her utmost concern, and she refuses to risk that deteriorating any further than it already has – particularly with their eldest son Archie".
Danielle recently revealed that Archie has been suffering severe separation anxiety and is receiving counselling.
We hope the former couple can come to an arrangement that will be in the best interests of their children.