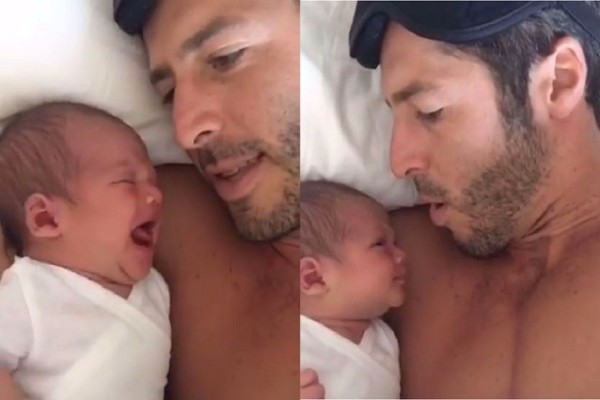 We all know how hard it is when a baby starts crying, and nothing you are doing can stop their tears. You just get more and more frustrated as their cries get louder, and you would give anything for a magic solution.
Well, you may have just found it, thanks to motivational speaker Daniel Eisenman. The doting dad has become an internet sensation this week, after a Facebook Live featuring him quelling his baby's tears in just two seconds went viral.
Daniel was broadcasting from his bed with his daughter, Divina, when she got upset and began to cry. Quick as you like, Daniel started an 'om' chant – and within two seconds, baby Divina was calm and quiet once again. Just like that!
The video, which has been re-packaged as 'how to stop a baby crying', has gone completely viral, garnering over 27 million views from parents who want in on this golden nugget of wisdom. Indeed, people are amazed at how effectively the hack works, and have been suggesting some interesting reasons as to why this is the case.
"That is because his noise is mimicking the noise of that in the womb…loud and steady. This kind of stuff really works. Good job, dad," wrote one follower.
Another chimed in: "My paediatrician told me that humming noises, such as a vacuum, imitate the mother's pulsing heartbeat when in utero; therefore, babies love it."
Meanwhile, others have shared their own hacks for helping other parents to get their babies to sleep.
"Yes! My son has loved our wind-chimes from the start. He heard meditation music while Mummy's tummy. He is now 11 months old and will crawl to our wind-chimes and grab them and shake them, and laugh. My little baby yogi," gushed one mother.
Another added: "That chick went to sleep! Wow! Very cool. I used to rub between the eyes on the bridge of the nose. Works, too!"
What do you think, mums? Will you be trying this trick with your own little one? Or do you have any nuggets of advice of your own to share? Let us know in the comment section!