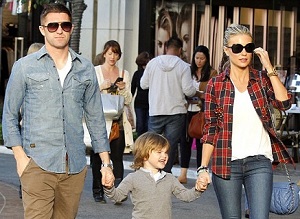 There have been some absolutely beautiful celebrity pregnancy announcements in recent times, but this one has to be the most heartwarming we have ever seen.
Irish footballer Robbie Keane took to social media this morning to announce that he and wife Claudine are expecting their second child, and they did it in the sweetest way ever.
Robbie shared a video to Facebook, showing Claudine and their son, Robert, enjoying a spot of breakfast together, with the proud mum breaking the very special news to their son.
When Claudine reveals that little Robert made a wish for a brother or sister, you know that the reaction is going to be good – but his is the very definition of elated!
As Claudine and Robbie confirm that Robert is going to be a big brother, he jumps up onto his seat and gasps, describing it as "amazing".
Robbie shared the video, writing in the caption: "Very excited to announce that Claudine is pregnant with our second child. We are all delighted. Couldn't resist sharing Robert's reaction when he found out his wish had finally come true."
Check out the amazing moment below.
Very excited to announce that Claudine is pregnant with our second child. We are all delighted. Couldn't resist sharing Robert's reaction when he found out his wish had finally came through.

Posted by Robbie Keane on Saturday, July 25, 2015