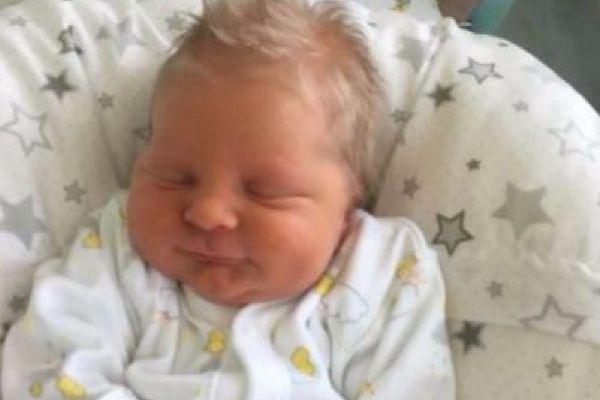 Philip Schofield was in for a shock when a mischievous viewer sent a photo of her baby to This Morning, asking if he was the dad!
Mum Clare Kelly's son Noah was born with a head of beautiful silver locks, and he's been the centre of attention wherever they go.
Her husband had joked that he might not be the father given his unusual hair colour, and that Philip Schofield was a more likely candidate!
Clare thought the suggestion was hilarious and decided to share a photo of little Noah to This Morning's Facebook page, to get their expert opinion.
She wrote: "My son was born on Friday morning. He's been in intensive care for three days and came out this morning, but the non-stop comments on his hair have been coming, as it's silver, and I myself am dark-blonde and my husband isn't blonde either. But my husband has asked if I have had an affair with Philip Schofield!"
Holly Willoughby was in on the joke and presented Philip with a photo of little Noah, explaining: "His mum, Clare Kelly, sent us this picture telling us Noah's had non-stop comments about his silver hair.
"His hair has got so much attention her husband has even asked if she's had an affair with Phillip Schofield. He wants to know if Noah is Phillip's lovechild. I would like this picture to get to Phillip and see what he has to say."
Phillip pulled a face to match Noah's expression, saying: "You said you'd never tell, but, hi!" Holly laughed before complimenting Noah, saying he was "a beautiful baby".
'Silver Fox' baby has dad asking 'is he Phillip Schofield's love child?'https://t.co/WVzxUZJQgK pic.twitter.com/mDpyuAz9HS

— Manchester Family (@familymanc) June 20, 2017
This Morning fans couldn't get enough of the adorable silver-haired tot, and he was showered with compliments as well as the odd joke about his likeness to Philip.
Clare's photo soon had over 30,000 likes as viewers who'd tuned in admired Noah's unusual hair.
"Think I see a likeness, he is gorgeous," one viewer wrote, while another said, "Congratulations!! Your little Noah is absolutely gorgeous and his hair is awesome! Just beautiful."
We think he is a handsome little guy, and his appearance on national TV at four days old could be the start of a great showbiz career!