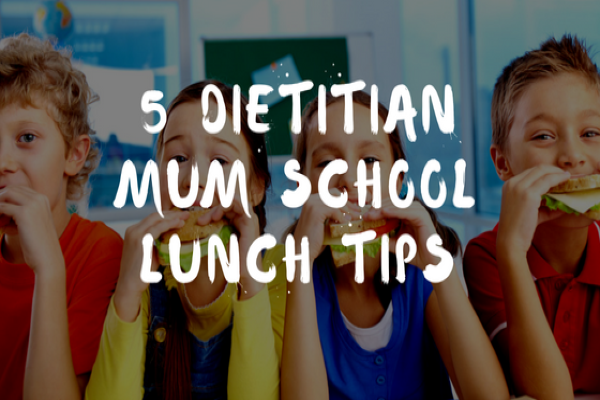 Well, if you believe social media at this time of year it seems that parents can't make a school lunch without lunch packing strategies and a never-ending supply of menu suggestions and recipes.
But realistically, think about it, what did you bring to school when you were a kid? My school lunch was a white bread sandwich with corned beef or cheese, a 5-4-3-2-1 (that's a little chocolate bar for anyone who didn't grow up in the 80s), an apple and a capri sun. Yep, different times! I'm not advocating that you start packing a sugary drink and a chocolate bar, but the sandwich and the apple are fine.

I'm not sure if my mother felt pressured when it came to school lunches, whether she worried I was bored of the same options and whether I finished it all, but I don't think so. However, today's parents are expected to not just provide lunch but to make sure that it's a nutritionally creatively presented buffet. It's no wonder we're stressed out about school lunches!

While it's important for your child to refuel at school let's keep lunches in perspective. School provides two eating opportunities out of five or six meals and snacks each day. What will happen if your child doesn't eat their lunch on any given day? Chances are they'll be extra hungry when they come home, easily fixed with an after-school snack and maybe they'll eat lunch tomorrow. There's a myriad of reasons why young children don't eat at school, often nothing to do with the food on offer. Your job as a parent is to provide your child with an appropriate lunch but it's up to your child whether or how much of that lunch they eat, this is called 'responsive feeding' and it's a skill vital for a future healthy relationship with food.

What if they want to eat the same lunch every day? If it's healthy it really doesn't matter. Of course, we want our kids to be adventurous when it comes to eating but I believe school lunch isn't the best place for all kids to experiment. Given that, adding something new to your child's school lunch every so often is worthwhile, where the best strategy is to pair it with an accepted food.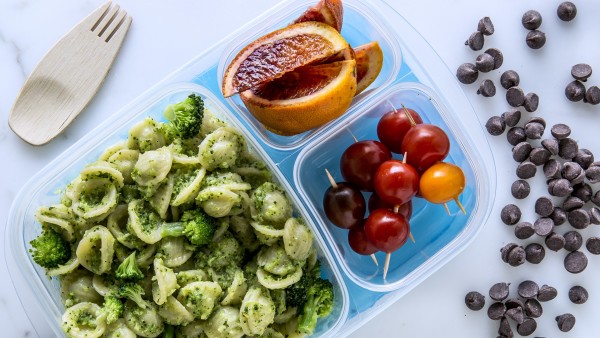 Here are my Top 5 Dietician Mum Tips for school lunches:

1. As soon as your child is able (much sooner than you probably think!), encourage them to make their own lunch. You can give some pointers but after years of eating lunch most kids can figure out what is suitable. Remember 'parent provides, child decides'. You stock the foods you would like your child to bring and they choose from that selection. Now, you are sharing control.


2. Don't pack too much, think about your own lunch and offer your child an age appropriate portion. If you eat a sandwich and an apple for lunch, then you shouldn't expect your 5-year-old to eat the same amount!

3. You don't need a fancy lunchbox. Of course, they look great in photos and can help some children to eat better but in most cases are not necessary! Do make sure that your child can open and close their lunchbox independently, their teacher will thank you for this one.


4. Presentation matters. No one likes a brown apple but that doesn't mean you need to create 'food art' at 7am. At some point, your child will have to eat ordinary food rather than kid-friendly foods so they need to be familiar with these. I occasionally make fruit skewers and cut out a cucumber heart, but this isn't an essential ingredient for a healthy lunch. However, do make it easy for your child to eat their own lunch by peeling their mandarin, coring and cutting their apple or serving sandwiches in manageable sizes. Too many little pots and packages will be distracting for younger kids so keep it simple and stick to 2-3 items.


5. A balanced lunch has foods from these groups:
A fruit and/or vegetable. Fresh is ideal but don't rule out handy standbys like tinned sweetcorn, baked beans and little pots of fruit in natural juice.
Some bread, wrap, crackers, pitta, pasta, rice cakes, bagel or a roll, mostly wholemeal if you can but if your child only eats white try 'best of both' as a compromise.
Some protein like meat, beans, salmon or tuna, cheese, egg or hummus. I struggle with my son who will happily eat meat and cheese at home but not at school. So, after years of putting food in his lunchbox only to throw it out later, I stopped, realising it was pointless as well as wasteful. He brings pasta with cheese, yoghurt, beans in a food flask or cheese scones (figure that out, won't eat cheese and a scone but will eat a cheese scone!) on some days but most of the time he brings crackers with butter, fruit, carrots and water. Is he lacking in protein? Is it worth making a battle out of? Absolutely not. He balances out over the day, eating omelettes for breakfast on some days or a peanut butter sandwich as an after-school snack.
Milk or water are the best drinks.
So, certainly look to Instagram and online for lunch tips, every parent needs inspiration now and again but please don't think it's a lunchbox failure if your child goes to school with a boring old cheese sandwich and an apple!