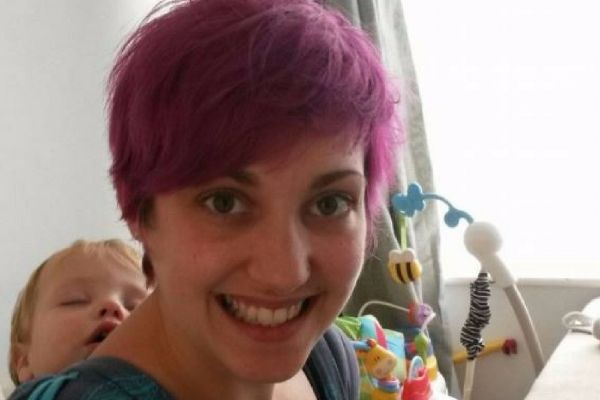 A mum has hit out at her fellow commuters after she was forced to stand up while breastfeeding on a busy train.
32-year-old Bryony Esther from Essex, who describes herself as "a clean eating, music-loving, baby-wearing, natural parenting, eco-friendly mum-of-three" on her Facebook page, was on a packed C2C train with her 15-month-old baby who needed a feed.
As all the seats around her were taken, Bryony was forced to stand in the corridor while she attempted to feed her little one.
No one offered the mum-of-three a seat, and when she asked if she could sit down where other passengers had left their suitcases, she was ignored.
Bryony was incensed by the situation and took to Facebook to share a photo of what happened.

"Having to stand on a train while breastfeeding my baby thanks to the lovely bunch of charmers giving more priority to their suitcases and rolling joints. It stinks," she wrote.
Leigh-on-Sea mum Bryony Esther says she felt "upset" at being forced to breastfeed standing up while on a packed moving train pic.twitter.com/kdJjx2eGEi

— BBC Essex (@BBCEssex) July 18, 2017
"Plus, the cyclist with a fancy bike that keeps rolling into me, sat in the disabled seat.
"Please share, because I'd love it if their mothers, girlfriends and wives get to see how they behave."

When a friend asked if it was possible that her fellow commuters didn't realise she was breastfeeding, Bryony replied: "They 1000 percent knew."
"The fact I stood by them for a few minutes, and then asked if I could please sit where the suitcase was, and yet they ignored me completely.
"The suitcase was being used as a surface to roll their joints. Then they stared at me for ages - disgusting excuses for human beings."
Bryony's post received almost 30,000 shares, but not all the messages she received were supportive.
She claimed she'd received some messages which said her baby looked "too old" to be breastfed, and others calling her an "exhibitionist" and advising her to "get a car", according to The Mail Online.
Since her difficult experience on the train, Bryony has updated her Facebook profile picture to that of an image for priority seating, reminding passengers to leave priority seats for those who are disabled, elderly or pregnant.
What do you think of Bryony's post, mums? If you were in her shoes, what would you have done? Let us know your thoughts on the matter - we would love to hear them.