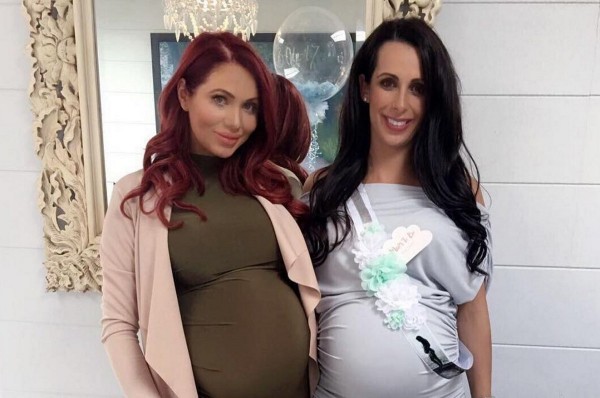 As much as we prepare in the weeks and months before giving birth, our best-laid plans can totally go out the window when we're in the delivery room. This is something that reality star Amy Childs can well and truly attest to.
The former TOWIE star, aged 26, has opened up about her 'bloody painful' labour experience with her newborn daughter.
The star previously revealed her hopes for a 'pain-free' hypnobirth, using breathing exercises during her contractions. However, writing in her column for new! magazine, she revealed that her plans quickly changed once the tot started to make her arrival!
"My labour was so long and hard – it was 27 hours!...Labour is bloody painful," she said, admitting that she was 'in shock' after the tot entered the world.
"I had to have an epidural in the end as it was all too much…I had to have two stitches," she wrote, adding that she just 'kept looking at her baby and crying' after labour.
While Amy and her partner, Bradley Wright, have not yet decided upon a name for their little one, there is one thing that Amy has well planned out – eating her placenta!
That's right; the reality star is following in the footsteps of fellow celebs Rochelle Humes and Kim Kardashian, by sharing her journey with placenta encapsulation.
The doting new mum took to Instagram to share photos of her pretty Placenta Plus package, all tied up with a pink bow, which she will be taking every day.
Amy is clearly relishing every moment of her new role, too. She shared her new appreciation of motherhood in another post, featuring a gorgeous quote which reads: "I am proud of many things in life, but nothing beats being a mother."
Amy announced her wonderful pregnancy news back in October, confirming the rumours that had been swirling to OK! magazine.
Gushing as the time, she said: "I feel so overwhelmed and I keep waking up smiling. We've wanted a baby for so long, so we're happier than ever."
News of Baby Childs-Wright's arrival into the world broke on May 1, with the star and her partner confirming that the little one was born the night before.
We're wishing Amy all the best with the exciting journey ahead.