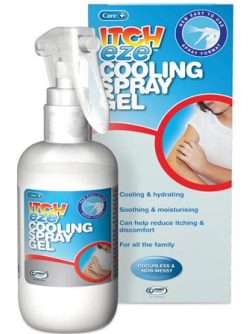 Dry, reddened and itchy skin can lead to extreme discomfort, distress and can be a source of embarrassment for some. If symptoms become extreme it can make people miserable, cause loss of sleep and can potentially leave sufferers with serious infection and scarring from scratching.
The new Care ITCHeze Cooling Spray Gel is a breakthrough product can help combat these symptoms with a unique patented technology called 'OsmoCare'. 'OsmoCare' rehydrates skin by drawing water from the inner layer of the skin to the surface; generating a cooling and soothing effect on the surface of the skin which can immediately help reduce the 'itch scratch cycle'.
Care ITCHeze Cooling Spray Gel is unlike other products on the market as it is safe to use on children as young as 6 months – making it an ideal family medicine cabinet essential.
Care ITCHeze Cooling Spray Gel is a convenient and easy to use spray; it is odourless, non-messy and avoids staining clothes. It should be sprayed onto the affected areas and rubbed into the skin two or three times a day.
Care ITCHeze Cooling Spray Gel is the essential product for the perfect holiday skin, and costs £7.49 for a 120ml family sized pack.