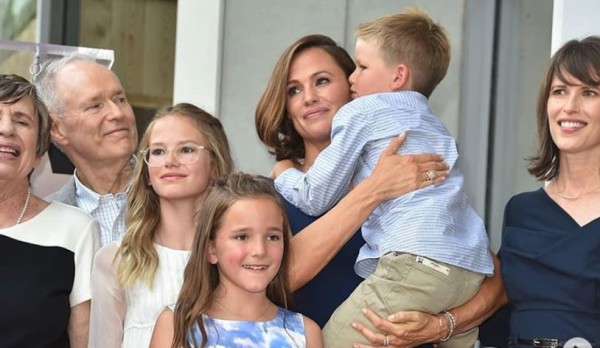 We're big fans of Jennifer Garner - I mean, who isn't?
She's having a bit of a tricky time recently what with her relationship with estranged husband Ben Affleck.
But at least her three kids have been putting a smile on her face.
While doing some press for her latest flick, Peppermint, she couldn't resist steering the conversation towards her gorgeous brood - Seraphina, 12, nine-year-old Violet and six-year-old Samuel.
The 46-year-old revealed what her kids think of her as - and it's not what you would think.
According to Bravo TV, she said, "I think they think of me as capable and able to handle things as needed."
Because of this, Jen is known to them as a "squishy mom."
Super cute, right?
Jennifer spoke about how she loves to unwind after the time-consuming job that is being an actor making movies on location.
And it's all thanks to her kids, she says.
"At the end of the day you get to go home to your real life kids and realise this is all pretend. My job is crazy but it is pretend and my life is beautiful. So It's pretty easy to go home and hug your kids and bounce back."
STAR POWER: #JenniferGarner received a star on the Hollywood Walk of Fame and it was a family celebration. The actress was accompanied by her three kids. #WalkOfFame pic.twitter.com/3VennSACNv

— AP Entertainment (@APEntertainment) August 21, 2018
The award-winning is celebrating receiving her star on the Hollywood Walk of Fame.
"I have some fancy new neighbours," she said her ceremony, according to Just Jared.
"Max Factor, nice to meet you. Zoe Saldana, I'm a big fan. Tom Cruise, I also do my own stunts, my star wants your star to know."
Jen was joined by her three children, but soon-to-be-ex-husband Ben Affleck was nowhere to be seen.
We think she looked radiant and the star is so well-deserved after over two decades of fantastic TV and film work.
Congratulations Jen!