Enforcing rules regarding the amount of sugar and junk food our kids eat is a problem experienced by most parents, and Jennifer Garner is no different.
According to People, the actress says she is "pretty strict" on her kids about their dietary habits, especially since she co-founded the organic baby food line Once Upon A Farm.
12-year-old Violet, nine-year-old Seraphina and six-year-old Samuel are encouraged to eat healthy, wholefood products to benefit their growth.
"I'm not worried so much about junk food, because we don't have it in the house—although I don't want to be a freak about it, so that they just want to get their hands on it at all costs," she muses.
"It's more that you just want to make sure they're getting a rainbow of flavours and of foods." Garner is well up to speed when it comes to her wholesome ingredient knowledge.
Her company sells cold-pressed baby food packets, and harvest their ingredients on the farm where Garner grew up as a child: Locust Grove, Oklahoma.
Her uncle Robert currently farms there, and grows persimmons, kale and blueberries for Once Upon A Farm, Jennifer told Martha Stewart.
"It's the first cold-pressed, organic, non-GMO, no sugar added, everything good that you would want to feed your baby when you make your baby's food homemade, but if you just don't have time, you know this is as close to homemade as you could possibly find," she said.
She would love for her kids to tend to the food they consume, by farming and growing their own produce.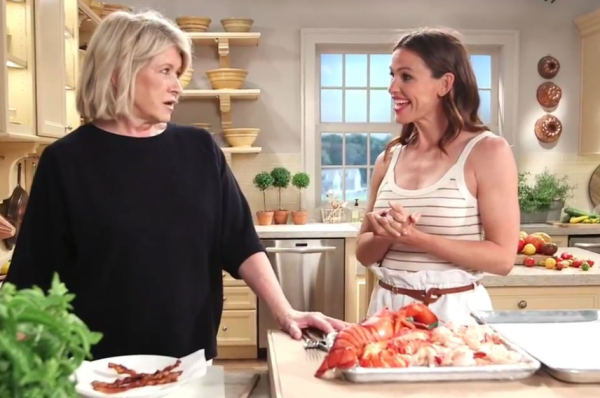 "I think growing your own food helps," she says. "When I was a kid, I didn't like tomatoes, but then my mom grew cherry tomatoes, and if I picked them straight off the vine, they tasted so good."
"My oldest didn't like blueberries until we had blueberry bushes. Now in blueberry season we take colanders down every night and they bring their friends over and we pick," she added.
She emanates her mother by leaving fresh chopped vegetables out when she's cooking the main meal for the family.
"My mom always said that if the house is smelling good and everyone is hungry," she says, "your kids will get their veggies that way by eating a bunch of raw broccoli and carrots and tomatoes."
Jennifer's profound love of food is on display on Instagram and Facebook with her "Pretend Cooking Show," though she has no current plans to write a cookbook or form a culinary cooking show.
The upcoming movie star of Peppermint recommends finding the right recipes for the individual family.
"I don't think I'm someone anyone should be listening to for recipes—I like to follow recipes," says Garner. "I'm happy to do exactly what I'm doing, which is to say, 'Hey, this is a recipe I like. If it works for you, try it.'"