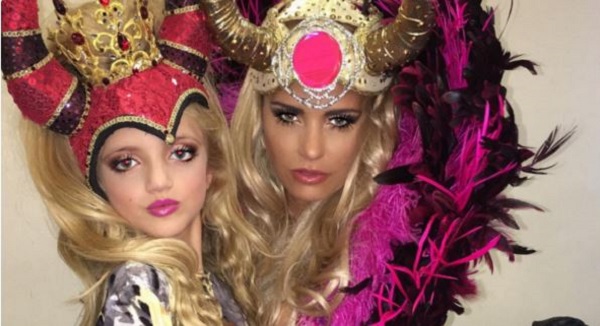 Katie Price was on the receiving end of a lot of criticism this week, after her eight-year-old daughter was spotted out wearing a full face of makeup, but it's Princess herself who has 'fired back'!
Taking to Instagram last night to address those who found her makeup to be 'inappropriate', the plucky little girl sent out a very special video message to the 'haters'.
Standing in front of the camera, wearing eyeshadow and lip gloss, Princess said: "By the way; I want to do my makeup, not my mum – I do! And it's none of your beeswax, so oosh!"
The video was shared to mum Katie's photo-blogging account, the caption reading, "Princess fires back!"
Consider us warned!
The controversy followed a sighting of Katie and Princess after the model's panto performance as the Wicked Fairy. While many Instagram users took to the site to condemn Katie for allowing Princess to 'look like an adult', others pointed out the fact that the little girl had been backstage and dressing up for the part alongside her mother.
While Katie's followers may have been at odds over the original photos, there seems to be a general consensus over the latest video – that she is 'brilliant'! Do you agree?