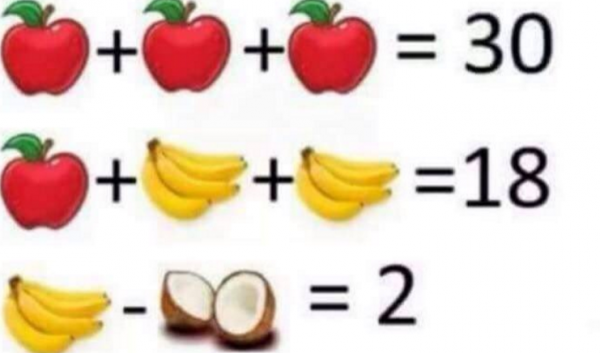 Recently, we reported on a simple quiz which thousands of school children in the Unites States solved with little to no trouble - a triumph which unfortunately many of their parents were unable to claim.

Well, it looks like the internet hasn't had enough of these total mindbenders and the latest one is the type to leave you feeling very irritated indeed.

What looks like a simple matter of mental arithmetic actually requires a little extra brain power and, if the confused posts on social media are anything to go by today, people simply aren't making the leap.

Give it a go and then read on below...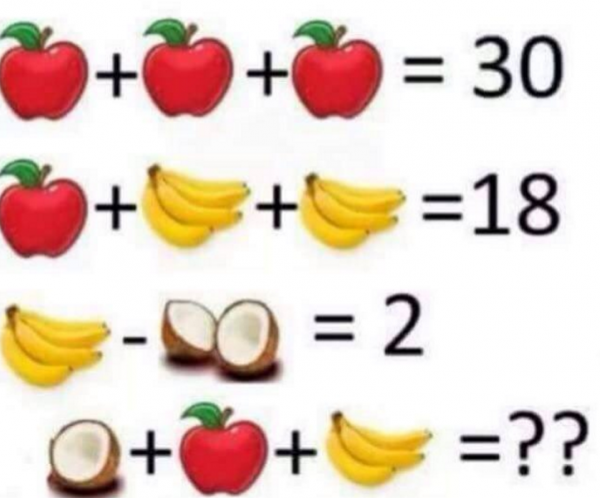 OK, so chances are you came to a very confident conclusion and are quite certain the answer to this mindbender is 16, right?

Wrong.

While the apple does indeed equal 10, the bunch of bananas equals 4 and the coconut represents 2, that's not what the question asked of you.

This extra-pesky brainteaser required you to add HALF a coconut, one apple and a bunch of banana minus one meaning that the correct answer is actually 14.

See, not so easy! Why not give it to the kids and see how well they do?!

SHARE to tease the brains of your friends and family!