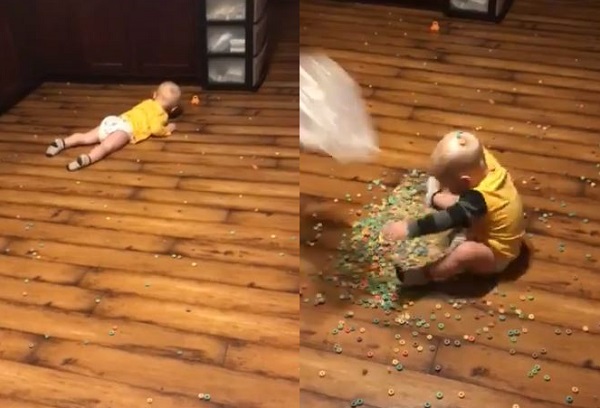 Where would we be without grandparents? They offer the helping hand we need when things get a little too hectic, and they create the most wonderful memories with our own little ones.
They can also get up to all sorts of mischief when left alone with their grandchildren, and this has been proven in the best way by Andrea Burdette Acton and her husband!
The pair have given the internet a good laugh this week, after sharing a hilarious insight into a recent chaotic night in with their toddler grandson.
It seems young Bryar has his grandparents wrapped around his tiny finger – as evidenced by the Fruit Loop party he enjoyed on their kitchen floor!
In a video posted to Andrea's Facebook page, little Bryar is seen walking around – rather guiltily, we might add – after spilling some of the rainbow-coloured cereal all over the floor.
While Andrea is less than impressed by the mess created by Bryar, her husband – better known as Pop – uses the incident as a learning experience.
Although it looks like Pop might be about to tell little Bryar off, the toddler is delighted to see his grandfather spilling the rest of the contents of the bag over him and encouraging him to get stuck into the mess!
"When Bryar starts a Fruit Loop food fight, and Pop Pop finishes it! Grandbabies are the greatest joy," Andrea wrote, posting the video to her Facebook page.
"Life is short! Have fun! It all washes off."
We couldn't agree more!
Needless to say, social media users have shown the video a whole lot of love over the past few days – with many people praising Andrea and her husband for their wonderful attitude to life and fun.
"So true, everything cleans up. Fun is fun, you can't wipe that memory away," one person commented beneath the video.
"Grandkids are great! They make you feel like a kid again. Great video," another added.
This has really warmed our hearts.