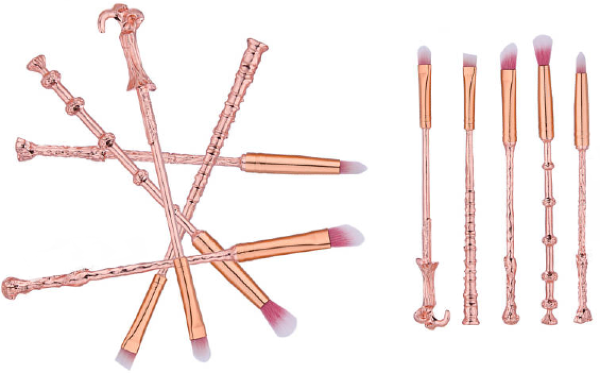 Harry Potter makeup brushes have been a thing for quite a while, and just when we thought they couldn't get any better...
BAM - pink Harry Potter makeup brushes (can I get a Hallelujah?)
The brushes are designed after the magical wands from the Harry Potter movies, and they are as amazing as you can imagine!
The set of 5 brushes includes eyeshadow utensils that are guaranteed to make your makeup flawless.
The 5 piece set is described as having a metallic finish with heavy metal handles, and nylon hair that is vegan and cruelty free.

The brushes are individually plastic wrapped, and represent the wands of Harry, Ron, Hermione, Dumbledore and Voldemort.
We haven't even gotten to the best part yet.
The brushes are CRAZY affordable, at just €11.37 (plus shipping) - so really, we have no excuse.
And if Harry Potter isn't your thing (sad for you), the gorgeous folks at Cookie Dough Deco offer many other themed brushes, from mermaids to Beauty and the Beast.
Honestly, we need these stunning brushes in our lives.