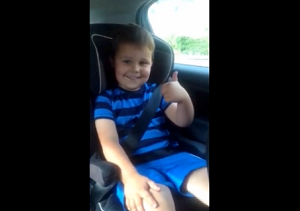 It can go either way when you tell your child that they are getting a baby brother or sister; while some kids are over the moon, others can tend to be a little apprehensive.
There is no question that Ethan Bromby is delighted at the prospect of becoming a big brother however, as the adorable video of his mum Sarah's announcement proves.
In the video, adorable little Ethan is seen sitting in the backseat of his mum's car. When Sarah hands him her ultrasound scan photos, he's confused, and when she tells him that she's expecting, he can barely believe it.
His reaction ranges from surprise to disbelief and then utter delight, and it's clear when he says that the baby can sleep in his bed that he is going to make the best big brother ever!
Check out this adorable video below.
This video was taken 5wks ago but Ethan is a little excited about some big news - (I've not decided to share with everyone on my friends list just yet) but cat had to come out of the bag to those lucky enough!

Posted by Sarah Bromby on Friday, August 21, 2015