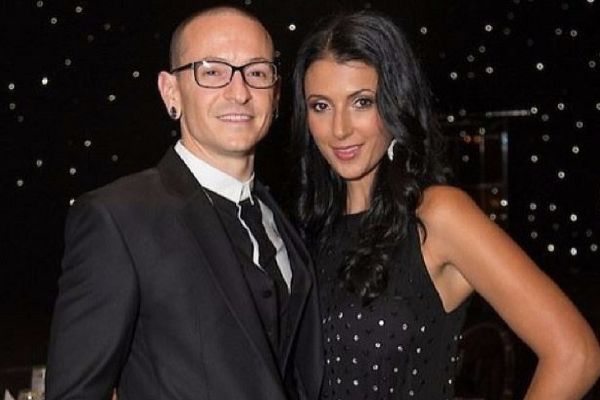 Yesterday brought the sad news that Linkin Park singer Chester Bennington had died in a suspected suicide.
The rocker, who had a history of alcohol and drug abuse, leaves behind a wife and six children.
Just last month, Chester's 11-year-old son Tyler Lee wrote his dad a heartbreaking note encouraging him to "love life".
On June 2, Chester's wife Talinda shared a photo of the sweet handwritten note on a post-it to Twitter, writing: "Our Tyler is the best!"
The note read: "Dad, enjoy your rehearsal or whatever you're doing today. Love life because it's a 'Castle of Glass'. Tyler."
Our Tyler is the best! @ChesterBe pic.twitter.com/3PYol3h61U

— Talinda Bennington (@TalindaB) June 2, 2017
The youngster was referring to one of his father's famous Linkin Park songs in the note.
Chester had three children with wife of 11 years Talinda: Tyler Lee, and twins Lilly and Lila. He had three other children from previous relationships: Jaime and Draven Sebastian, from his first marriage to Samantha Olit; and an adopted son, Isaiah.

According to TMZ, the singer hanged himself in his home in LA. His body was discovered yesterday morning, just before 9am.
The Los Angeles County Coroner confirmed they were investigating the rocker's death as an apparent suicide, but no additional details were available.
He died on what would have been his close friend Chris Cornell's 53rd birthday.
Happy Father's Day to the man of my dreamsYou are the best Daddy ever!! @ChesterBe pic.twitter.com/R96A6uGSam

— Talinda Bennington (@TalindaB) June 18, 2017
The 41-year-old struggled with drugs and alcohol in the past, admitting he had smoked cannabis at the age of 11, following his parents' divorce; and later progressed to cocaine and meth.
However, he said he had gone to rehab for alcohol and drug abuse, and "chose to be sober" and no longer drank.
Last night, friends and fans paid tribute to the rocker as news of his sad passing broke. Fellow Linkin Park bandmate Mike Shinoda wrote on Twitter: "Shocked and heartbroken, but it's true. An official statement will come out as soon as we have one."
Meanwhile, Linkin Park's Dave Phoenix Farrell expressed his sadness, writing: "Heartbroken".
Late night out for Mommy & Daddy!!! #grammys #WarnerBros @ChesterBe @linkinpark pic.twitter.com/WaXqr7WX5F

— Talinda Bennington (@TalindaB) February 13, 2017
A statement by CEO and chairman of Warner Brothers Records, Cameron Strang, read: "Chester Bennington was an artist of extraordinary talent and charisma, and a human being with a huge heart and a caring soul.
"Our thoughts and prayers are with his beautiful family, his bandmates and his many friends.
"All of us at Warner Brothers Records join with millions of grieving fans around the world in saying: we love you Chester and you will be forever missed."