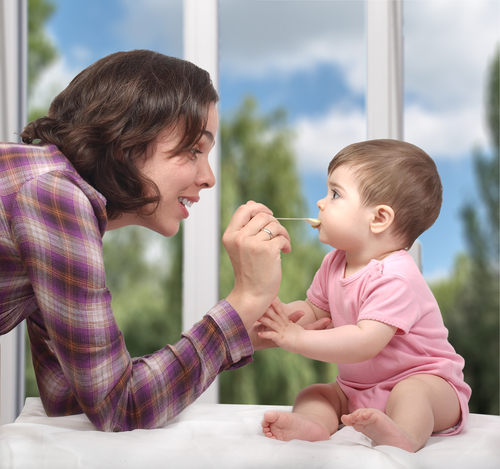 Home-made baby foods can help you provide low-cost, nutritious foods for your little one. Commercial baby foods are convenient and safe, but they often contain more water, starch, and sugar than home-made ones.
Most babies do not need solid foods until they are about 4 to 6 months of age. Before that age most babies have not learned to swallow solid foods. The sucking reflex pushes the tongue forward in the mouth and pushes out solid foods. You can force food down the baby's throat, but the baby is not swallowing. Starting solids too soon may contribute to gagging and choking. If you wait to introduce solid foods, you will not need to make them into liquid. Babies will be able to handle food that is slightly textured and has small lumps.
Baby's first foods need to be soft. Some paediatricians recommend iron-fortified infant rice cereal mixed with breast milk or formula as a first solid food because rice is less likely than other grains to cause allergic reactions. Foods can be softened or mashed in a blender, food processor, food mill, or grinder. Sometimes just mashing with a fork is sufficient. If you are using foods fixed for a family meal, take out baby's portion before adding seasonings and spices. Begin with single foods in case allergies are present. Later try combinations of fruits, vegetables, or vegetables and meats.
Remember Food Safety
Special care should be taken when preparing foods for babies because they are more vulnerable to germs than older children and adults.
Raw food contains bacteria. Never let cooked food come into contact with raw food. Thoroughly wash chopping boards and utensils that have been used with raw foods to avoid the cross-contamination that is responsible for many foodborne illnesses (food poisoning).
Do not let baby food sit at room temperature for more than two hours. Harmful bacteria in the food grow very well if given a chance. Refrigerate or freeze baby food as soon as possible.
Keep in mind that even freezer-safe containers are not indestructible. They can crack or otherwise become damaged if they are over-filled or if they are dropped while filled with frozen food or knocked hard against one another. Take care to leave a little room at the top when filling them since liquids tend to expand as they freeze. Remove items from the freezer carefully and allow them to thaw at least somewhat before removing food. Do not hit the container in an attempt to get the food out or you may crack your favourite freezer-safe containers.
How to make baby food:
1. Wash and rinse your hands and equipment thoroughly.
2. Prepare fresh fruits and vegetables by scrubbing, peeling, and removing seeds. Remove all bones, skin, gristle, and fat from meats. Do not use leftovers to make baby food.
3. Cook food in a small amount of water until tender. Use the cooking water if the recipe calls for liquid. Food also may be steamed or baked.
4. Don't add salt or seasonings.
5. Don't add sugar, honey, or any other form of sweetener. Babies do not need the sweet flavour. They like fruits and other foods just the way they are.
6. Puree or mash cooked food.
7. Spoon into babypotz, add label and freeze.

WARNING: Use extreme caution if defrosting or heating in a microwave oven. Microwaves can heat a food unevenly and form hot spots. One spoonful may be cold, yet the next spoonful could burn your baby's mouth. Always stir the food well before feeding your baby. Most health and childcare professionals recommend against using a microwave oven to warm baby food.
How long can I keep the food frozen for?
Freezer Storage Times:
Purees with milk 4-6 weeks
Fish 10 weeks
Red meat and chicken 10 weeks
Fruits and Vegetables 6 months
Storage
If you make your own homemade baby food you will soon find that as your baby grows and starts eating more than a couple of ice-cubes per meal time, it becomes difficult to find the right size container to freeze the food in. All the widely available pots in shops are usually just that little bit too big for the portions you need to freeze when you start weaning and you can only buy a set of one size.
Babypotz are the perfect solution for freezing batches of baby food. It is so frustrating to find that after you have spent so much valuable time making lovely nutritious food for your baby you realise that it is going to be impossible to freeze it in the portions that you really want and need.
This article is brought to you by BabyPotz.
Click here
to visit the Babypotz website.