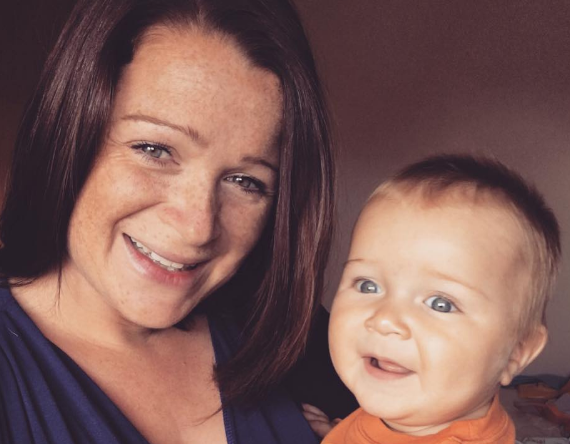 As we mums all know, nothing makes the already tough job of parenting more difficult than judgement and lack of compassion. We're talking tuts and sighs on an airplane if we have a fractious toddler, or, "Why is there a child in here?" mutterings as we struggle with a crying child in a restaurant. Sure, it's not ideal; but weren't we all children once? What are we supposed to do – hide away until our children are older?
So when Hertfordshire mum Lucy Hatami was struggling with crying baby son Ben in a restaurant while trying to sort out breakfast, she was shocked to hear a man in his early 20s mutter, "I wish she'd shut that thing up!"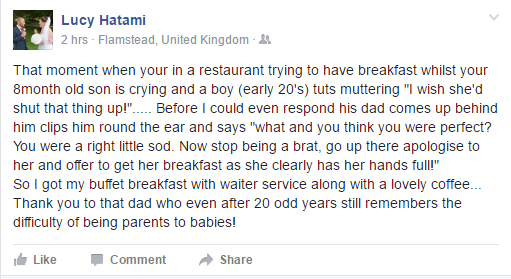 But before Lucy could retort, the man's dad came up, clipped him around the ear and said, "What and you think you were perfect? You were a right little sod. Now stop being a brat, go up there apologise to her and offer to get her breakfast as she clearly has her hands full!"
Good enough for him we say!
Thanks to this man telling his son what's what, Lucy's experience quickly turned from horrible and upsetting, into one rooted in kindness and understanding.
"So I got my buffet breakfast with waiter service along with a lovely coffee," wrote Lucy on her Facebook page. "Thank you to that dad who even after 20 odd years still remembers the difficulty of being parents to babies!"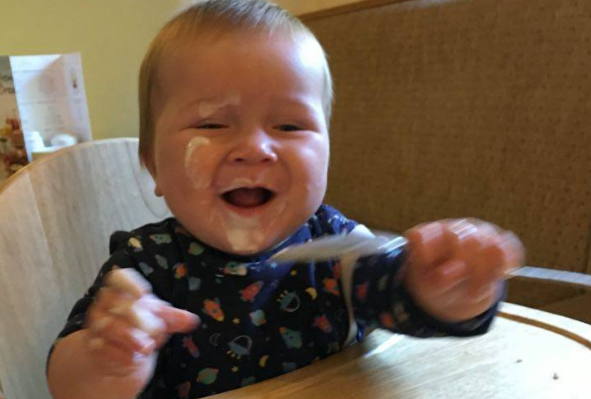 Brilliant! It just goes to show a child is never too old to be scolded by their mum or dad! We hope this experience will make that young man think twice before tutting at a stressed mum again.
Ben, who is currently in the throes of baby-led weaning, got stuck into his brekkie with a smile soon after, as the photo his mum exclusively shared with us shows. What a cutie!
SHARE if you love this story as much as we do!