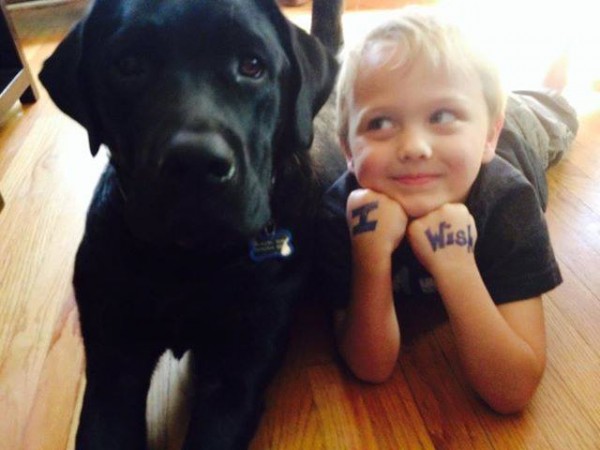 Dogs aren't only man's best friend – they are carers and protectors too. These wonderful creatures employ a mix of instinct and love to safeguard their beloved humans.
Seven-year old Luke was diagnosed with Type 1 Diabetes when he was just two. He is hypoglycaemic unaware, which means his body cannot tell if he has low blood sugar. As a result, he has no be monitored constantly, because if his blood sugar drops too low, he could die.
Jedi is Luke's best friend. Not only is he a loving companion, he is also a lifesaving Diabetic Alert Dog, whose very important job is to look after Luke and alert his parents if his blood sugar level drops. In essence, he has to act like a pancreas.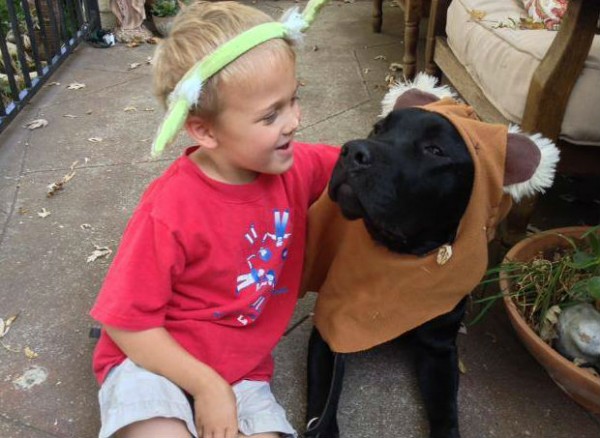 And amazingly, Jedi has already saved Luke's life. Posting on the Facebook page Saving Luke - Luke and Jedi - Fighting Type 1 Diabetes Together, Luke's mum shared a post showing Jedi saving Luke's life by alerting her that his levels were dangerously low.
"This may just look like a dog, a sleeping boy and a number on a screen, but this, this moment right here is so much more," she wrote. "This is a picture of Jedi saving his boy.
"Jedi jumped off the bed, then back on again, though I felt him do this I didn't wake up. Then Jedi laid on me. I woke up. He jumped off the bed and half on and would not budge when I told him to get back up. I got out of bed, he bowed, Luke's CGM said he was 100 steady. So I told Jedi we would watch and see, he bowed again (bowing is his low alert), I told him to get up on the bed, he held his ground didn't budge, he refused.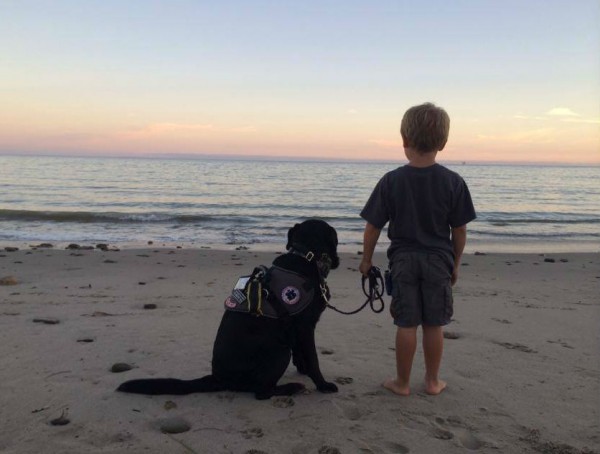 "Then I knew he meant business and the sleepy fog started to wear off and I began to think clearer. I suddenly was fully awake and I knew there was an issue. I pricked his finger and got this, 57 is way too low, and by Jedi's behaviour I guarantee he was dropping fast (he is still recovering from a stomach bug and anything under 70 is low).
"Luke was laying right next to me, just inches from me, and without Jedi I would have had no idea that he was dropping out of a safe range. He has never woken up on his own for a low in over 4 and a half years. We are his safety net, he goes to bed every night, and although he doesn't know it he relies 100% on us to keep him safe overnight.
"That's why we check his blood sugar overnight, every night, and we have every tool, every monitor, and have spent every day of the last 3 years training Jedi to alert to highs and lows, because type 1 diabetes is relentless and we need as much help as we can get."
Wow. We are awed by the way Jedi can sense when Luke's blood sugars are rising and falling, and how he knows to wake his parents if he is in danger. Another reason for us to adore these beautiful animals.
SHARE if you think Jedi is a true hero!