The Duchess of Sussex has been quietly working on her upcoming clothing collection for the charity Smart Works for months now, and posted behind-the-scenes video footage yesterday.
Meghan Markle has given us a sneak peek of herself at the photoshoot for the womenswear collection, and she's absolutely beaming with joy while meeting the inspiring women.
Smart Works aims to lift disadvantaged women out of poverty by offering them work clothes and workplace skills. A clothing collection designed in partnership with the Duchess will soon be dropping.
Meghan can't help but smile throughout the video, shared on the Duke and Duchess of Sussex's Instagram stories. Showing off her chic style in a loose-fitting striped shirt, she looks glowing as always.
Meghan gushed about the charity and her upcoming collaboration in her recent edition of British Vogue, which she guest-edited;
"When you walk into a Smart Works space you're met with racks of clothing and an array of bags and shoes. Sometimes, however, it can be a potpourri of mismatched sizes and colours, not always the right stylistic choices or range of sizes."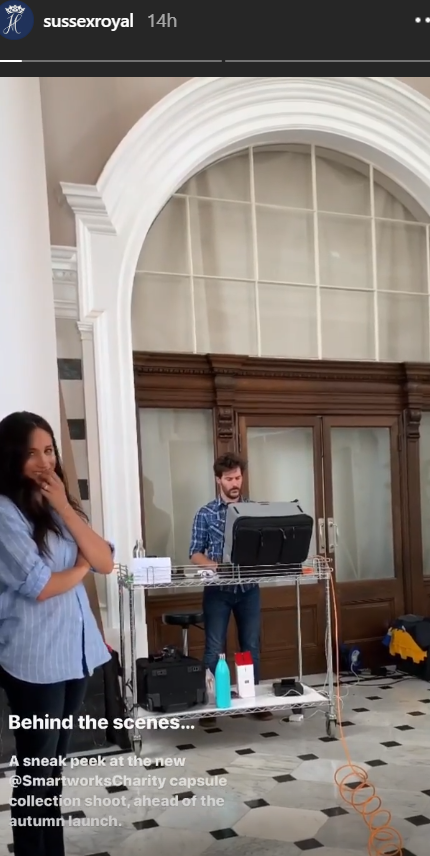 "To help with this, I asked Marks & Spencer, John Lewis & Partners, Jigsaw and my friends, the designer Mischa Nonoo, if they were willing to design a capsule collection of more classic options for a workwear wardrobe," she added.
"Taking the idea further, many of the brands agreed to use the one-for-one model: for each item purchased by a customer, one is donated to the charity. Not only does this allow us to be part of each other's story, it reminds us we are in it together."
Meghan is involved with all aspects of the shoot, styling the models and helping to direct the images behind the monitor.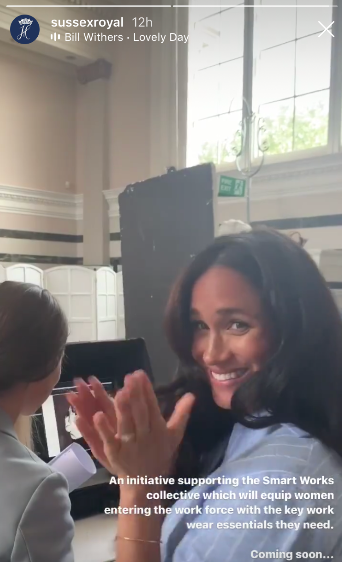 "Behind the scenes," the clip was captioned. "A sneak peek at the new Smart Works capsule collection shoot, ahead of the autumn launch."
The collection promises to feature "classic options" for women entering the workforce, with the clip showing a brief image of a classic black dress with a v-shaped neckline and a shot of a crisp white shirt.
There's no doubt the Duchess of Sussex has put together the most stunning collection.