mifold Grab-and-Go - don't call me just a booster seat, I'm so much more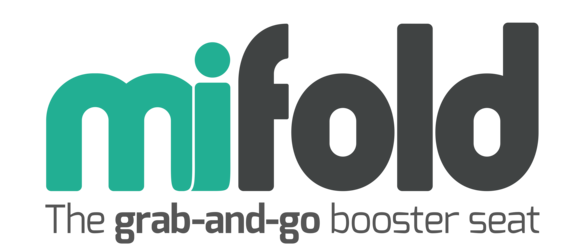 Most parents and caregivers are aware that it's against the law in the UK for a child aged 12 and below to travel in a vehicle without a car seat. Makes sense, right?
But did know that there are exceptions to this rule? The Government identifies the lack of options available to parents when, for instance you're jumping into a taxi, or don't have a car seat in a rental car, or when travelling a short distance in grandma's car or even if there's no room for a 3rd car seat – which child do you choose to sit unrestrained? UK Law claims that it is not illegal for your child to travel using an adult seat belt under these circumstances.
And guess what? According to new research a third of parents in the UK admit to having not used a car seat for their child at one time or another (confused.com, 2016). Reflecting on those times when it's just not viable to lug around your child's regular often heavy, bulky car seat, those journeys are downright stressful! And until now, there has not been a convenient solution to this global problem.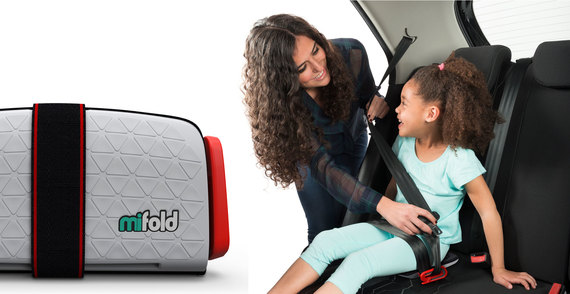 Mighty small and might strong, with
mifold
, inventor Jon Sumroy has a vision: that no child ever travel unrestrained no matter whose car they are in! Those parents who have already discovered mifold are grateful for filling a gap with car seat struggles they faced before owning a mifold: their older child no longer feeling "babyish" as they did when sitting on a regular booster, or worry when their child is being picked up by another parent for a playdate, even appreciative that mifold takes up no space in hand luggage so it can be easily accessed ready for the taxi ride from airport to final destination!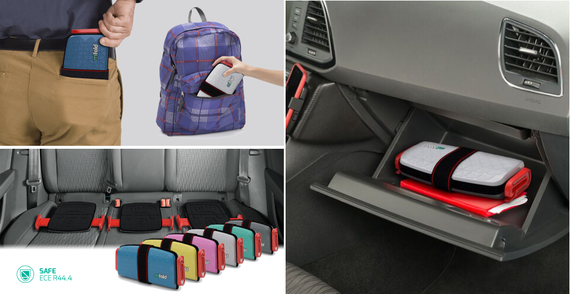 You see, mifold is as light as a small bottle of water and folds into the size of a clutch bag, which means it's easily carried in a handbag, a child's backpack or stored in a car glove compartment, making it the unique device that it is! Surprised? Well there's more – mifold has been rigorously crashed tested and is a regulated Group 2/3 ECE R44.04 child restraint system suitable for 4 to 12 year olds.
But recently, there has been some confusion about the legality of using backless booster seats here in the UK. The new laws released in March 2017 by the Department of Transport now classifies NEW models of backless booster seats manufactured from now on as Group 3 car seats, suitable for kids above 125cm in height. Still confused? To put it simply, any backless booster seat manufactured before March 2017 carrying the orange ECE R44.04 approval label is still 100% legal and safe to use, own and purchase for your 4 to 12 year old weighing between 15-36kg, mifold included! In fact, retailers still recognize the need of booster seats in the family of car seats they offer.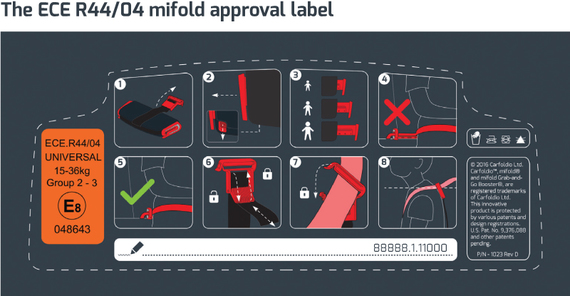 So now that we've clarified that mifold is 100% safe to use, here's the explanation on how it works. The car fits around the child to keep them safe in case of impact. mifold acts as a seat belt adjuster by pulling the straps down onto the body using the 3-belt guide. The lap belt guides place the belt correctly on the hip bones – away from the abdomen, and the Quick-Clip holds the shoulder strap on the collar bone away from the neck and face. It's that simple.
And as if this wasn't enough, mifold has been engineered to offer ultimate comfort with its extra foam padding, can be wiped clean and comes in 6 exciting colours!
mifold IS a total game-changer. There is no longer any excuse for a child to travel unrestrained when their regular car seat is unavailable, and that's the mifold vision. For your local mifold stockists,
click here