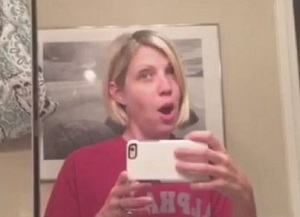 As mums, we know how tough it can get trying to keep our cool when our little ones are just losing theirs completely.
One clever mum decided to treat her frustration over her daughter's tantrum in the most hilarious way, however – by lip-syncing it!
While it may look rehearsed, it's clear that there is no way that this poor, exhausted mum would endure her daughter's screaming for the sake of a video.
If you're wondering how this mum managed to perfect the lip-sync, however, it's clear that her particular talent comes down to the fact that she has been listening to it for so long. Indeed, a subtitle that flashes up at the end of the video reads: "This tantrum brought to you by sheer exhaustion and an invisible scratch on her leg."
Check out the video below, and prepare to be highly entertained.