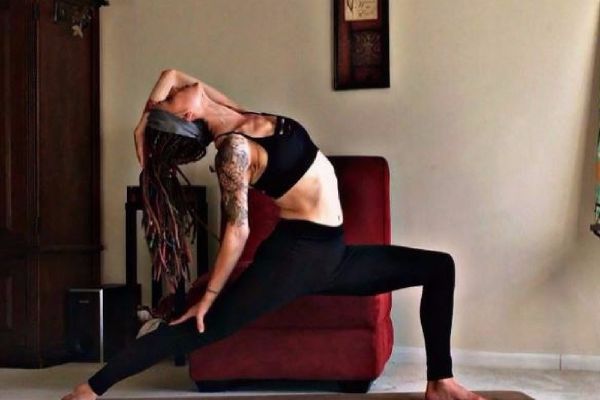 Most mums enjoy sitting down somewhere comfortable to breastfeed, but this mum enjoys standing on her head!
Yep, mum-of-three Carlee Benear finds nothing more soothing than getting into a yoga pose while feeding her youngest child Maramaylee, 10 months.
Carlee took up yoga after the birth of her second son Cale, and soon found it had a positive impact on her life. She practised it throughout her third pregnancy right up to the end, and now practices "baby-wearing yoga" with her children strapped to her body.
After giving birth to Maramaylee, 29-year-old Carlee soon realised she could simultaneously breastfeed and practice her yoga.
"Once my daughter was born, we were inseparable. After a few weeks of staring at her every move, I felt the urge to get back on my mat and step back into my practice with this fresh new joy surrounding me," she told HuffPost UK.
"Once we started feeding and flowing, a spark ignited. We were connected again in harmony."
She added: "I started early after pregnancy, because I needed it to help me adjust and relax while we were getting into the swing of all things breastfeeding."
Although it might look risky, Carlee says she would never endanger her daughter with a yoga pose.
"That's the funny thing about some poses," she explained. "It may look impossible to the untrained eye, especially until you discover how it's done and what your own body is capable of.
"I used to be very clumsy - yoga changed that. Yoga helped me understand gravity and the grace that comes along with it."
Carlee has over 22K Instagram followers and regularly posts photos of herself practicing breastfeeding and baby-wearing yoga. She says baby-wearing yoga - where her children are tied onto her with slings while she practices yoga - "is a wonderful way to play and rebalance your energy connection".
Carlee struggled in the past with postpartum depression and says that yoga has helped her tremendously.
She says she's had other mums contact her to say they have experienced similar feelings: "I have been overwhelmed with heartfelt messages of inspiration and struggles. So many mums forget that you can't pour from an empty cup, and that's where I fear we let postpartum depression get us."
Carlee encourages her kids to get involved in yoga, and six-year-old Milam is already a pro. We are seriously impressed with his poses!