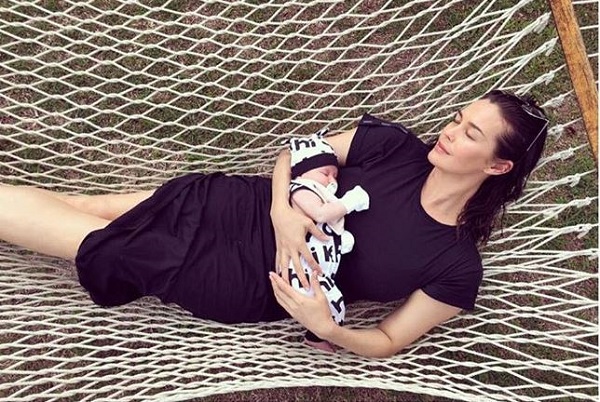 Australian model, actress and mum-of-two Megan Gale posted an Instagram of herself and her husband going to dinner, the trolls quickly descended.
Snapping a quick self of the two of them in the car, she wrote that she had dropped off the two children at their grandmothers and had gotten ready in 10 minutes to go get food.
"Missing our babies," she wrote. "But SO important for parents to have some couple time when / if they can grab it."
We completely agree, especially with a 3-year-old and a 6 month old!
But not all commenters were in agreement. So Gale clapped back by editing the post, with a very important message.
"For sure we have to devote the majority of our time to our kids.," she explained. "However, IF it can be managed well, stealing an hour or two, here and there as a couple or an individual is a "win" for parents."
She continues to say that she had fully feed and prepared her baby before leaving her with her mother (who is obviously experienced in childcare).
Elaborating on her point, she said that with her first child she barely left the house after giving birth:
"With River I barely left the house for the first 6 weeks, out of fear, out of guilt and I lost a little part of myself and also developed what I now feel was a mild case of post natal depression."
Gale nails it home with the point that if you are fortunate enough to have someone you trust care for the little one, then it's healthy to focus on time alone or with your other half:
"If you've ensured your child is well looked after in your absence, then there is nothing wrong with some alone time as a couple or as an individual.
You'll be happier people for it and more importantly, better parents."
Other mums were quick to praise her for her honesty and no-nonsense attitude towards self-care:
"Thanks Megan! You have inspired my partner and I to head off for a quick dinner date tonight before he has to fly out for work next week, leaving our 12 day old with her Nana!! Looking forward to spending some one on one time with my man and Nana is very excited to have my little one all to herself for an hour or so. Feeling nervous but also excited! You're doing a great job."
"I agree. It's important for everyone in the family that the parents have their time too. You seem to be doing a wonderful job as a mum."
"Can't love this post enough! It is so so important for new parents to take some time to still connect with each other! I hope you had a lovely dinner and don't ever feel like you have to justify anything to anyone"
We definitely think Gale has it right, all too often mums can forget to have some time for a breather. But, as Gale said, you'll be the better for it!