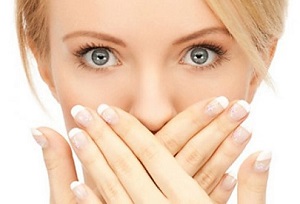 Halitosis, or bad breath, is one of those things that irks and concerns everyone at some stage. While, for some, it can be a medical problem, others can experience bad breath from something as simple as their diet or hygiene routine. Here are five natural approaches to tackling the problem.
1. Water
The first step is to up your water intake, drinking plenty throughout the day and swishing it around your mouth after meals. This will loosen particles of food that might be trapped, clear off surface stains, and increase saliva production to neutralise harmful bacteria.
2. Cloves
While the taste might be slightly overpowering, cloves are famed for their antiseptic qualities, which help in the fight against the bacteria that causes bad breath. Chew on some of these, and you won't have to worry about getting too close before opening your mouth.
3. Raw foods
Raw foods such as carrots, apples and celery are great for scraping the plaque build-ups that may be causing halitosis. Chewing on raw foods also boosts saliva production, which also helps to fight harmful, odour-causing bacteria.
4. Herbs
Green herbs contain chlorophyll, which neutralises bad odours, so chewing on a fresh sprig of mint, basil or parsley is great for refreshing your mouth.
5. Salt water
No doubt many of you have turned to salt water gargling when suffering with a sore throat. However, it's also great for getting to the root of the problem with bad breath, as the salt water gets rid of harmful, odour-causing bacteria in your tonsils.