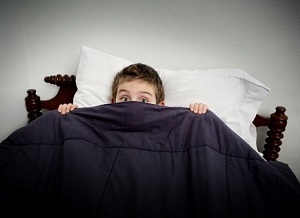 Anyone who loves getting into the holiday spirit lives for having their displays talked about, but one family's Halloween décor has made headlines for all the wrong reasons this week!
Vicki Barrett opted for a very, ahem, realistic choice of decoration for this year's spooky celebrations, but the fake 'dead bodies' hanging outside of her home have left her little neighbours terrified.
The Ohio family's home is located only one block from the local primary school, and a number of concerned parents have complained that the display is terrorising their children.
As well as an impaled dummy, the Barrett family's display features an upside-down crucifixion – we can certainly see why the neighbours are running scared!
Speaking to local media, alarmed mum Jackie Anselmo said: "You take a double-take, because it is a very realistic display. I'm almost horrified that somebody would think that it's ok to put it that close to an elementary school."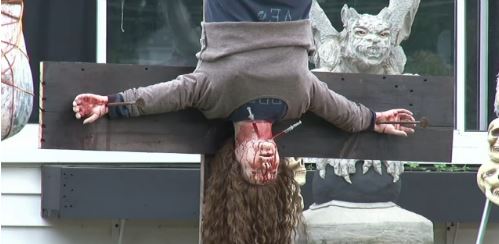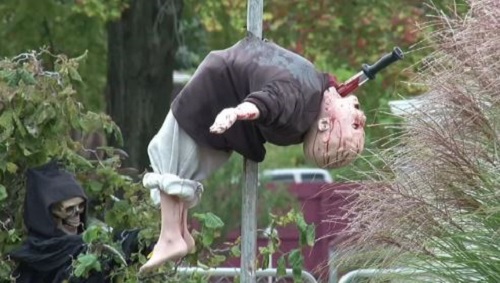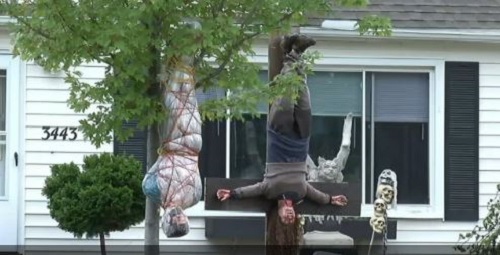 Anselmo is now petitioning for the display to be taken down, but the local council has said that there is nothing it can do.
Mum-of-two Ms Barrett, meanwhile, said that she is just trying to capture the 'fun' of the holiday.
Insisting that there is "no ill intent" behind the display, she said: "We don't want to scare kids. We just want to do the Halloween fun of it."