October means it's all about Halloween in my house. Along with the costume debate (who's going to wear what, where can I possibly get a costume for a dead teacher/bus conductor/hedgehog?) goes the chat about the trick-or-treat haul. How many sweets did you get last year? What's the biggest thing I can bring around to carry the most loot? How many treats can I eat on the way around without being sick/caught?
Ah sure, it's only a harmless bit of fun people say to me. And it's only one day of the year says others. And if that was the case, sure, I wouldn't mind so much when my children stagger in the door under the weight of their pillowcase full of jellies and lollipops and chocolate and jelly eyes. But what's just around the corner after Halloween? Christmas and it's mountain of selection boxes and chocolate coins and mince pies….there's a little break for the January resolutions and then it's into Easter.
So when my wounded nurse and fluorescent skeleton came home one year with 48 bags of jellies, 38 mini bars, about 50 chewy sweets and so many lollipops we gave up counting, I was not happy. This added up to about 100 pieces of junk per child - even over a month this equates to three treats a day or an extra 20-30g of sugar daily ( rough estimates)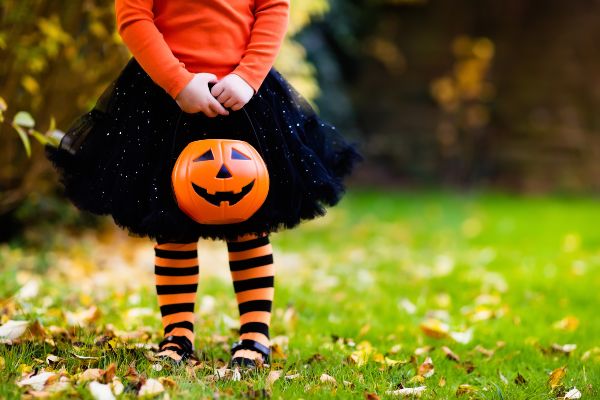 So not wanting to have all that stuff hanging around the house - if it's there, they'll eat it - I sorted it out and discarded lots of it, picked some out for a local charity and kept a selection of jellies and chocolate bars for weekly treats.
I've done this every year since my kids started trick-or-treating. In recent years, I keep thinking of the madness of all this consumerism - buying bags of sweets to swap them with other's peoples bags of sweets and then taking half of them and throwing them in the bin or giving them to a charity who don't really want them either.
One year, I didn't give away sweets. I bought some cheap, Halloween toys from Dealz and Penneys and gave them out at the door instead. And they went down really well. But this year, in the interests of reducing waste and singe-use plastics, I don't want to give out cheap plastic toys.
This year, I'll be giving away something else entirely and I'd love more people to come on board with me and slow down the Halloween madness of sugar laden waste. I'll be giving out MONEY - yes money, to the kids that come around this year. I've figured out that I spend about €10 on sweets/toys so I'll be getting 10c coins from the bank and giving every child a coin and once they're gone, they're gone!
If lots of people were to give out money - 5c, 10c, or whatever you can afford, the kids could come home with a couple of Euro and then use it to buy a book or a toy or even a treat. So much better for their health, the environment and my pillowcases.
Would you consider it for this year? Maybe do a bit of both, some sweets and some coins? Please let me know if you'll join in with me and we can work together for a better world for our kids.