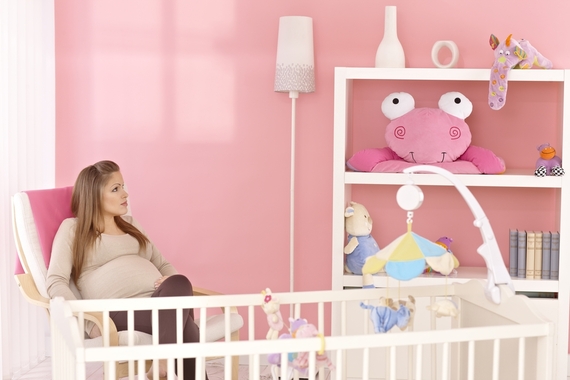 Preparation is the key to success, so it's not a bad idea to start organising your baby's nursery before they arrive. That way, you'll know exactly where everything is when you need it, which will be a really big help in the long run. Here are some tips on how to do it:
Baby's wardrobe:
Have a look at the wardrobe you're going to use for your baby's clothes, and make sure you have enough space. You can buy closet organisers for extra shelving if you need to - and it's good to have extra shelves as people may have bought you clothes that your little one will grow into, so it's handy to keep them separate. Also, you'll have somewhere to store the clothes your little one will grow out of in no time.
Changing table:
You're going to have to use the changing table at night time as well as during the day, so it's helpful to have it somewhere there'll be enough light, even at 3am – or have a night light nearby. Changing tables usually have compartments where you can store all your necessities, such as nappies and lotions. You can fill these up before your little one arrives so that you're good to go.
Furniture:
Make sure you have a clear path from the baby's cot to the changing table, as you don't want to bump into anything in the dead of night. If you've invested in a rocking chair to sit and rock your little one to sleep in, it's best to have it next to the cot so that you don't have to walk too far once they drift off. Similarly, it's good to have the changing table near to the wardrobe, so that you can find them a clean outfit as easily as possible.
Extra storage:
As we said, it's good to have a clear path from the cot to the changing table, so it's important to have storage that doesn't take up too much space. You could get a crib trundle, which slides underneath the cot and is ideal for storing things you don't use all that often. Shelves are also great in a nursery as they don't take up any floor space.