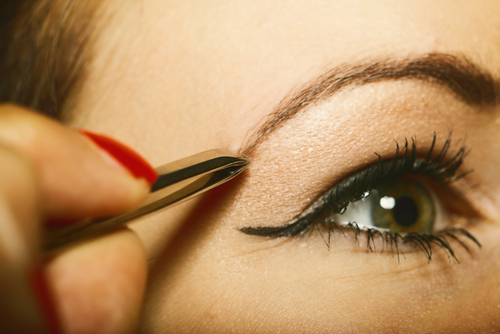 Sneezing, crying and streaming eyes are pretty common when you are plucking your eyebrows, and you can usually put it down to the pain. Many women feel that they have to endure the pain as a part of tweezing with many feeling there is no way around it. However, that is where you are wrong - there are a number of things you can do.
To help make it that bit more bearable, we have compiled a list so that you can go and do some happy plucking.
Pluck after a shower
A warm shower will open up the hair follicles making plucking that much easier and painless.
Wash your face with warm water
If you don't have the time for a shower washing your face in warm water will do the same trick.
Choose the right tweezers
Make sure it is a sharp slanted style as they grab strays and are less likely to pinch you.
With one hand pull the skin around your brow tight and use the other to pluck out the hairs. This will make the hair come out a lot easier making it a lot less painful.
Teething gel
A little teething gel rubbed along the brow line will help to ease any discomfort. It will numb the area slightly and the gel will help the hairs to come out smoother.
If you have tried all of the above and are still finding it sore, treat yourself to a trip to the beautician – you deserve it.