Like almost everything else she has dealt with in life, actress and writer, Lena Dunham, has been exceedingly candid about her struggles with Endometriosis.

Opening up about the condition in her newsletter, Lena wrote: "From the first time I got my period, it didn't feel right. The stomachaches began quickly and were more severe than the mild-irritant cramps seemed to be for the blonde women in pink-hued Midol commercials."

"Those might as well have been ads for yoghurt or the ocean, that's how little they conveyed my experience of menstruating," she added.

And after more than a decade living with with the condition, Lena eventually underwent surgery in the past year and insists the procedure has had a profound impact on her life.

"I am strong because of what I've dealt with," she said. "I am oddly fearless for a wimp with no upper body strength. And I am no longer scared of my body. In fact, I listen to it when it speaks."

Confirming this, Lena took to Instagram last night to share a snap of herself at a pool party she attended alongside her Girls co-stars.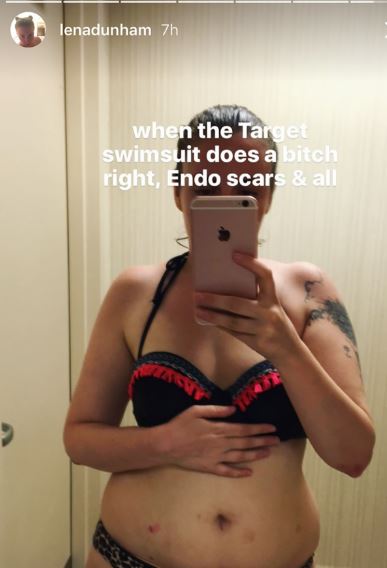 "Mother bleeping pool party at the Hilton Garden Inn," she wrote, "Say hi guys! The pool party rages on."

Making reference to her condition and the surgery she underwent last November, she added: "When the Target swimsuit does a b**ch right, Endo scars & all."

Following the surgery, Lena told fans and followers: "I was better than I had been in ten years."

You go, Lena!
SHARE to spread the love