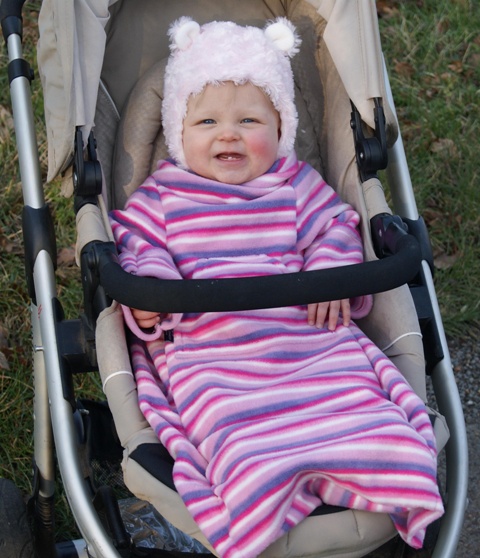 Pop-on blankets are soft, cute, cuddly blankets with sleeves to ensure your baby or toddler is comfortable when out and about in their pram. The sleeves allows baby to stretch his arms and use his hands to play so he is kept happy while you're pushing him around.
A black Velcro fastening keeps Pop-on securely in place and there are front pockets where your baby can store all his little toys and dummies. The sleeve ends can also be folded over to cover your little one's hands on cold days. There is also clever inside foot pocket to keep those little feet nice and snug. They have been designed to fit over jackets so you're baby will have plenty of layers for those very cold days.
Pop-on blankets are also great for car and plane journeys. Baby can be wrapped up yet the blanket can be easily removed, without disturbing your baby. It can also be transformed into a cushion if necessary by folding the Pop-on into the foot pocket.
This practical, unique product is made with luxuriously soft non-pilling polyester fleece and is machine washable and quick drying. Available in 2 sizes, newborn to 1 year or 1-3 years and are all priced at £12.50. There are eight colours to choose from. Pop-on blankets are available from
www.coziewarmers.co.uk
.