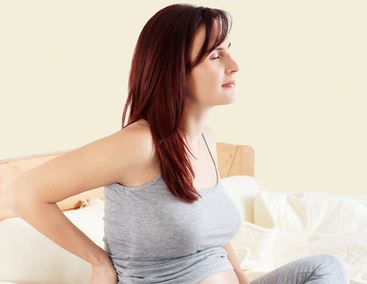 Just because your baby has arrived, that does not mean that all of the changes your body went through during pregnancy have been reversed. It is very probable that those changes are still causing your back pain a week or even a month after your child was born.
Remember that your uterus swelled to many times its usual size during pregnancy. That meant that your abdominals had to stretch to accommodate it, and that stretching has left them weak. Weak abdominals cannot support your lower back, so your back is working harder to keep you upright, and that could be causing back pain.
Hormone levels also increase phenomenally during pregnancy, and one of the jobs that those hormones do is to loosen your joints and ligaments. That is great news for childbirth, but not for your muscles and bones. It can take some time for hormone levels to get back to normal, and for your joints and muscles to tighten up again.
Labour itself can also cause back pain, particularly if you had an epidural. You may not know how hard you strained during labour, and that may mean that you injured your back too. Bad posture after delivery can also contribute.
Finally, there is the exhaustion that all new mums feel. It can amplify the pain that you are feeling, and what might actually be a mild ache can seem excruciating, simply because you are so tired.
If you did not have back pain before pregnancy, you are likely to recover from back pain brought on by childbirth fairly quickly. Within a few months, you should start feeling better. If you did, however, it is likely to take longer, and you may need medical intervention to eliminate it completely.
Exercise is one of the best ways to treat postpartum back pain, but you need to start with gentle exercises, and strength building, and it is best to ask your doctor what he or she recommends. Doing the wrong type of exercise may make your back pain worse, rather than better.
Make sure that you pay particular attention to your posture, particularly while breastfeeding, and avoid heavy lifting and strenuous work for a while. Taking a warm bath, applying a warm compress to the area that you have pain in, and getting a massage can all help to ease back pain.
If you find that managing your back pain with rest, good diet and gentle exercise is not helping, then there are other methods you can try. Ibuprofen or paracetamol can both provide relief from mild back pain. Visiting a chiropractor, an acupuncturist or a physical therapist can all help to relieve postpartum back pain.
If your pain is constant and very severe, if you start to lose feeling or use of your legs, or if you have any loss of sensation in your lower body, you need to seek immediate emergency medical care.